by Judith Lewis
Foreword: A chance comment made at a Riverstone Festival Committee meeting in January 2016 made me realise that, apart from the scrapbook I compiled at the time, the photograph album and the Centenary Booklet itself, all housed at the Museum, there is little recorded about the week of activities which, in many ways, helped the growth of the Historical Society.
In 1983 the school had a staff of 61 – 41 teachers (two non-teaching), twelve ancillary staff & seven cleaners who were spread over three sites, the Infants Department in Garfield Road, Preschool in Piccadilly Street and Primary Department in Elizabeth Street. School Counsellor, Jill McGregor, was based at the High School but spent much time at the Riverstone Public schools, especially with her "baby" the SLU (Special Learning Unit). The student number for the three departments was 860.
Planning for the Centenary celebrations began in late 1981 when, on 23rd November, Principal Stan Fulker wrote to the Historical Society Secretary, Michelle Nichols, inviting their attendance at a meeting to form a planning committee. The meeting took place on Tuesday, 1st December at 7:30pm.
The Committee was:- Staff & P&C Members:- Judith Lewis Deputy Mistress & Chairman, Margaret Crouch – Library Clerical Assistant & Secretary, May Keegan – Clerical Assistant and Treasurer; Stan Fulker – Principal, Harry Hyland – Deputy Principal 2, Jeanette Edgecombe – Deputy Principal 1, Helen Muir – Deputy Mistress (both Infants' Department), Ian Woods – Deputy Master; Rose Hanlon – Cleaning Staff and former student. Former Students & Historical Society Members:- – Lorraine Forbes, Sam Lane, Michelle Nichols, Rosemary Phillis; High School History Master:- Garrett Barry, P&C members:- Ernie Benz (former student), John Gooding – President & Publicity Officer, Carol Callanan & Pam Boyne.
Recipe Book
One of the committee's earliest decisions was to produce a Centenary Recipe Book which would contain recipes supplied by parents and friends of the school. Local businesses were also contacted, to provide a family favourite recipe, plus a brief history of their connection with Riverstone and, if they so desired, to pay $20 for an advertisement in the Recipe Book. Riverstone Meat Co. was approached and agreed to print the book if some manual assistance could be available to help with the printing process (our wonderful ancillary staff happily provided both that assistance and with the typing of the recipes).
Twenty three businesses paid for advertisements in the Recipe Book. Many told their brief history; Conways' Newsagency for example started in 1921, The Liquor Barn in 1978. Others who contributed included; Tony's Fish Shop, Geoffrey's Hair Flair, Nichols' Service Station, Pad About, Garfield Tender Meats- Munro's, Liddy's Place- Lorraine Forbes', Crosby's Hardware, Driscoll & Reid, Mrs Coulter's, Mausy's, Maureen Tozer's, Riverstone Hot Bread, Thrift Pharmacy – Mitchell's, William's, Callanan's, Arnolds', Evelyn's Gifts – Hawkins', Wallace Sport & Hobby Centre – Peggy Wallace, Shell Service Station – Stoev's and Willet's, Mackers' Coffee Lounge, Brookes' Shoe Centre, Riverstone Mower & Cycle Centre – Fred Alcorn's, Riverstone Floral Centre, Greg Patterson.
Centenary Booklet
Judith Lewis and Margaret Crouch spent a day at the State Archives, then housed at Sydney's "The Rocks", where they perused and copied original documents and literature and thus began the compilation of material for the official Centenary Booklet "Riverstone Public School 1893-1983".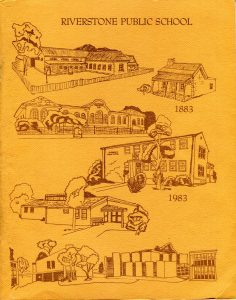 The sub-committee responsible for the booklet was Judith Lewis, Lorraine Forbes, Rosemary Phillis & Michelle Nichols with Pamela Boyne creating the cover and other sketches and Olaf Auzens – High School Teacher-Librarian handling the photography.
Seven special contributions to the book came from former teachers and students; Audrey Gander, Edith Harrop, Rumery sisters Ida and Hazel, Hilda Stanford, Nora Cubitt and David Brown.
96 year old Audrey Gander who, as Miss Welch taught at Riverstone in 1912 and 1913, leaving in 1913 to marry. Until she could find board in Riverstone with Mr & Mrs Ted Garrett, Audrey's brother drove their horse and sulky, about a five mile journey from Blacktown, and on the way they picked up Edie Brown (Edith Harrop) from Quakers Hill. (Four years after the Centenary when Audrey turned 100 she was living in a Nursing Home in the Blue Mountains. The Tourmaline Hotel loaned the school its bus and Mary Gillespie and Judith Lewis took the school choir to the mountains to entertain the residents and be part of the cutting of her '100' birthday cake).
Edith Harrop travelled by train in later years, arriving at 10:30am and returning on the 4:30pm train. Edie had fond and clear memories of life at school during the WW1 years. Main subjects were Writing, Arithmetic, Spelling, Geography, History, Poetry, Singing, Nature Study, Knitting and Sewing and sports or games were Hopscotch, Skipping, Jacks, Rounders and Football. Classes went to Year 5 when you either left or passed your QC (Qualifying Certificate) and went on to either Parramatta Commercial or High School.
The Rumery sisters Ida (Voysey) and Hazel (Boag) lived in Rosebank. Their memories were also detailed as was that of Hilda Turner (nee Stanford) at 89 our oldest former pupil. Each of the three concluded with the following comments:- Ida, "I did not enjoy school at all"; Hazel, "I have many varied memories, but I hated it all the same"; Hilda, "I didn't enjoy school and was glad to leave".
Jim Russell, First Assistant (now his title would be Deputy Principal) shared memories from a much-loved teacher's aspect and David Brown a student from 1943 to 1948 remembers Jim Russell in 5th class "We idolised him … polite but firm".
David Brown went on to become a school principal himself. Blacktown City Council kindly printed the Centenary Booklet for us. Audrey Gander and Hilda Turner, as the oldest ex-teacher and ex-pupil, were special guests at the 1983 celebrations.
In the 1980s Riverstone had its own weekly paper, the "Riverstone Press". The Press and other local papers – Blacktown City Star, Blacktown Advocate, Western Districts Guardian, Windsor and Richmond Gazette and Hawkesbury Courier – gave excellent publicity to the Centenary celebrations. Residents were encouraged to drop off old photographs etc. at Liddy's Place, owned and run by Lorraine Forbes, in Garfield Road (Anne's Embroidery was there until recently).
Centenary Celebrations – Tuesday
Although Riverstone Public School had opened in January 1883. the Centenary celebrations began on Tuesday 22nd March 1983, with an Open Day and Centenary Luncheon. The Primary Department invited visitors to spend time in classrooms from 9:00am till 11:00am, the Infants Department from 11:00am till 12:30pm and Pre-School from 12:30 to 2:00pm. Senior Citizens and any former teachers present were served Luncheon by the P&C in the Primary School Library. Parents were encouraged to join their children for lunch in the playground. At 12:00pm the play "Riverstone, This Is Your Life", written for the occasion, by Judith Lewis, was presented. ("This is your Life", hosted by Roger Climpson, was a popular television programme at the time.) The Riverstone version was hosted by Dodger Simpleton, aka Year 6 student Ben Barker. Fellow Year 6 student, Julianne Shields, played Riverstone. (A transcript of the play and school song appear at the completion of this article.)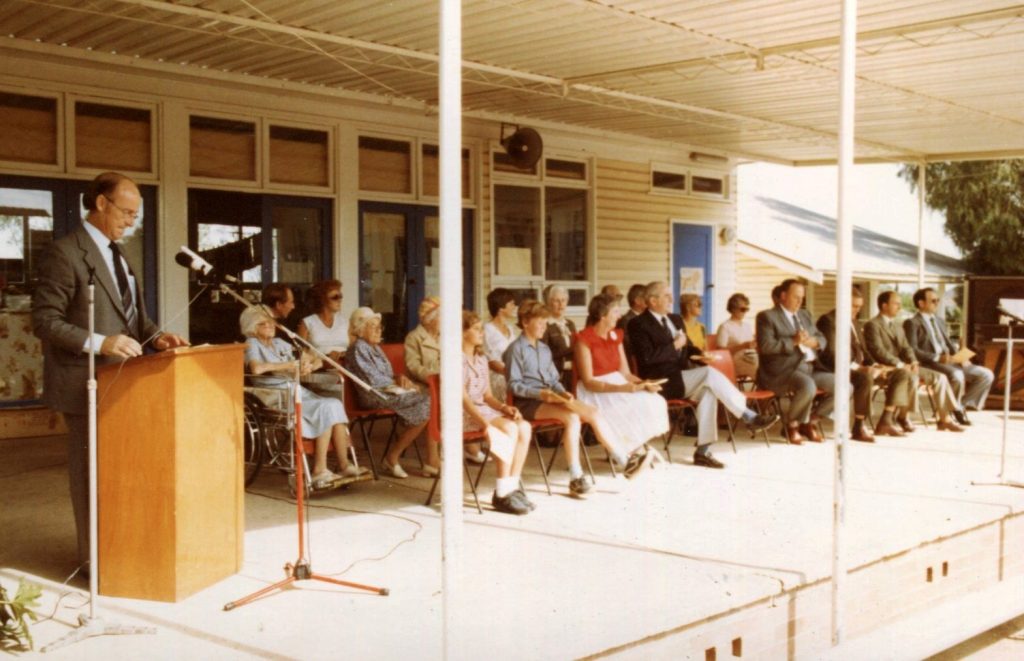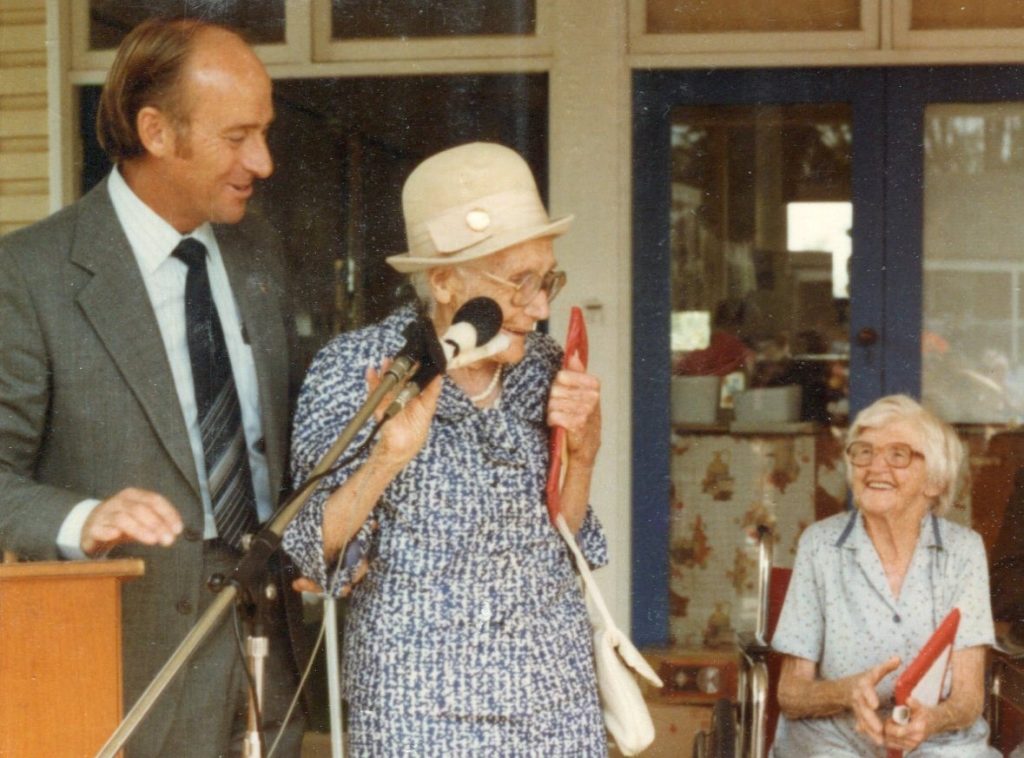 Centenary Celebrations – Friday
Friday, 25th March saw the whole school assembled at 10:00am in the quadrangle at the Infants' Department for the official Centenary Celebrations. The school bell tolled 100 times to officially start the ceremony chaired by Principal, Stan Fulker, who introduced the official guests, followed by Judith Lewis whose welcome address concluded with, "my prayer for today is that each one of you will take away very fond memories both past and present".
Blacktown's Mayor, Alderman Jim Lynch and Metropolitan West Region's Director of Education, Jim Farnsworth, addressed the assembly. The official opening and unveiling of the Commemorative Plaque was conducted by Member for Riverstone, Tony Johnson, who drew much applause when he announced the school would get a new free standing library as a 100th birthday present. The library was built and in 1993, a year after she had retired from teaching, Judith Lewis was invited back to a school assembly where the library was officially named the Judith Lewis Library (a delightful surprise).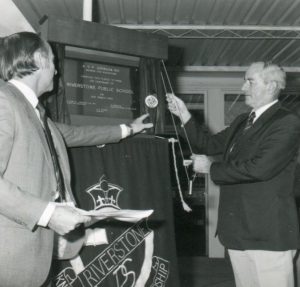 A Centenary cake, an enormous fruit cake, made and donated by catering staff at HMAS Nirimba, was cut by Mrs Audrey Gander assisted by school captains Michael Brown and Melissa Keegan. The Nirimba staff had one stipulation, the cake was to be shared by all the students (it was much enjoyed!).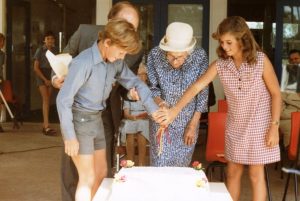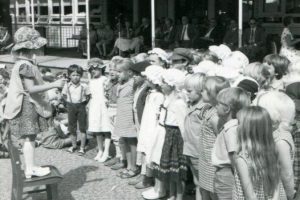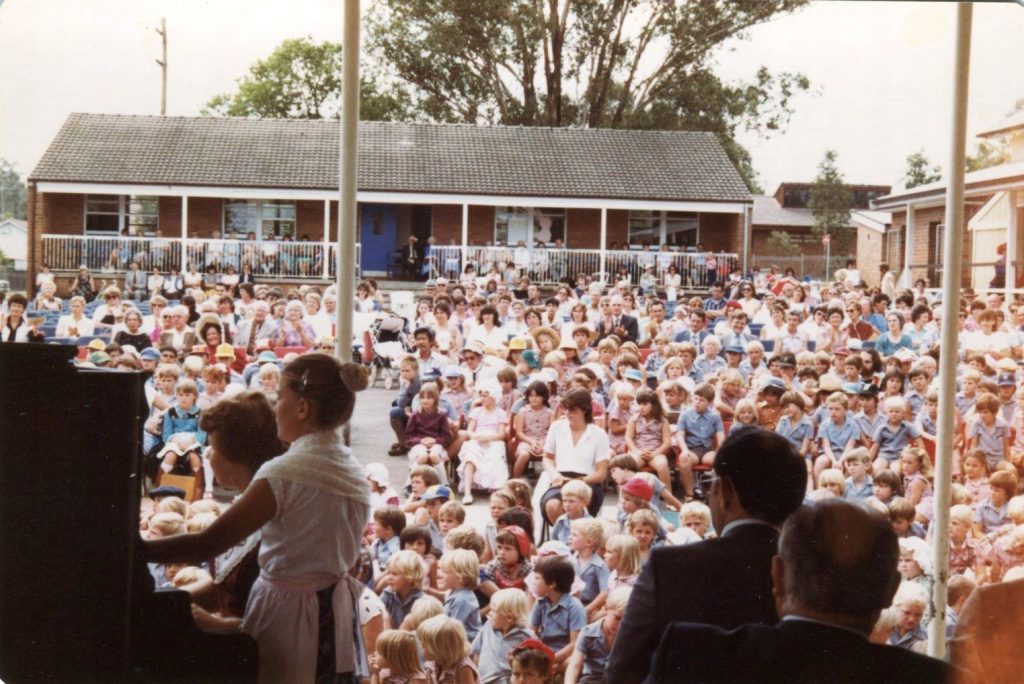 Interspersed throughout the programme were choral items from both Infants' and Primary Department Choirs, conducted by Helen Muir and Mary Gillespie. The Infants' children sang "The Old Bark Hut" and "I Still Call Australia Home". The Primary Choir sang "Schooldays" and "Any Dream Will Do". School Captain, Melissa Keegan, led pupils in the school prayer:-
"This is our school,
Let peace dwell here.
Let each room be full of contentment
Let love abide here.
Love of one another,
Love of mankind,
And love of life itself
Let us remember that,
As many hands build a house,
So, many hearts make a school. Amen"
Fellow Captain, Michael Brown also played a part in the programme. Appreciations were expressed by District Inspector of Schools, Mr. L. Craddock and P&C President, John Gooding. Morning Tea, a viewing of the Historical Display, housed in the "old" weather sheds, and much mingling was followed by lunch for the official party. Evening activities on the Friday included a teens' disco at the High School and a Greyhound Race Meeting held at Richmond.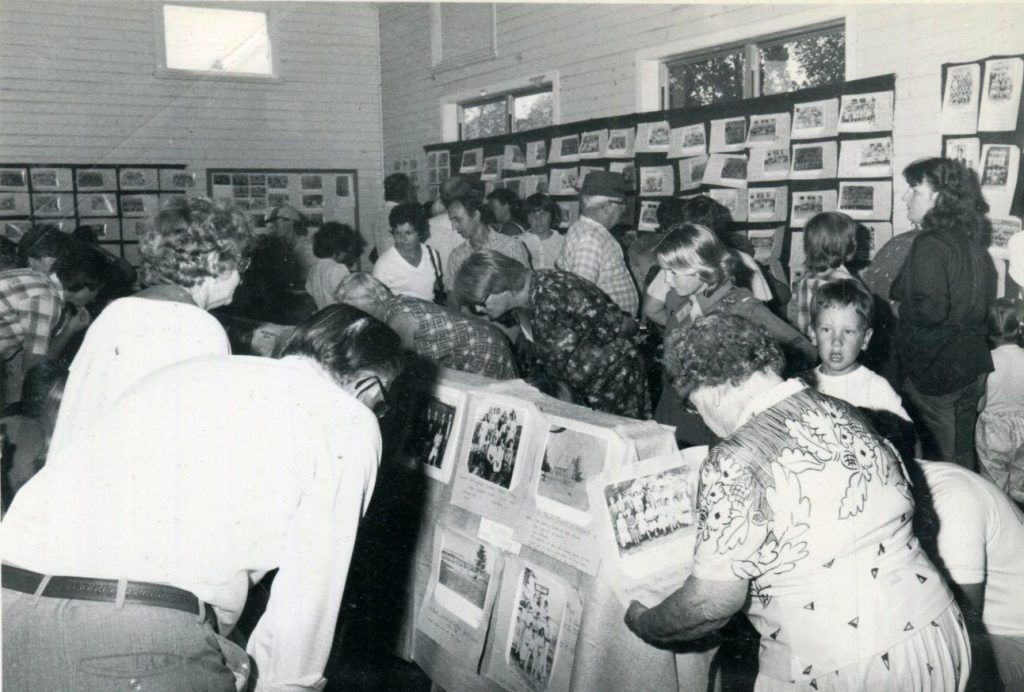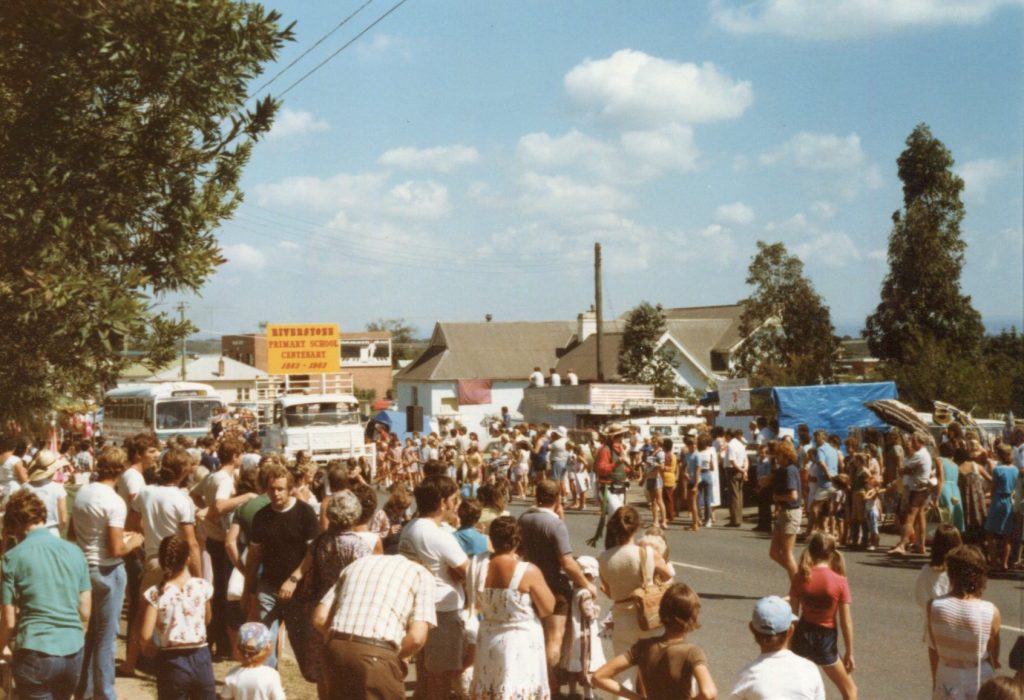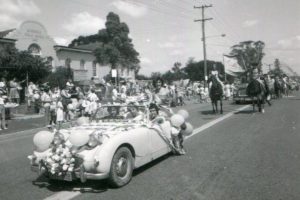 Special guests who attended the celebrations included Hilda Turner (nee Stanford), a former pupil who enrolled as a six year old in 1896, ex teacher Nora Cubitt (nee McMahon), who taught at Riverstone in 1913, ex teachers Jim Russell (1940s) and Mrs Alisa Paterson & Jim Gormley Principal (1950s) and Pat Rohl Infants' Mistress (1960s). After 71 years Audrey Gander and Edie Harrop met on the Friday of the official function.
Centenary Celebrations – Saturday
Saturday, 26th March was a busy day, beginning at 11am with the O'Connell County Fair Parade, which saw over 100 decorated floats wend their way from Mill Street up to the Infants' Department and its surrounds. They passed the original school building (now the Museum) which was open for nostalgic visits. The Centenary Fair was conducted in both the school grounds and its surrounds. From 11:30am till 4:00pm the huge crowd was entertained at two stages, the outdoor kindergarten area and the Garfield Road area backing on to the pool where the Historical Society crowned Jenny Ogg as "Miss Riverstone and District", Kerry Oznybyshizn, as "Miss Teenage Riverstone", Deborah Varney as "Miss Crowning Glory" and Michelle Strahan as "Miss Charity Queen".
Celebrations both inside and outside the school grounds included stalls lining both sides of Garfield Road from the then Masonic Hall, now the Museum, to Piccadilly Street. Activities included wood chopping, dance and gymnastics, Bush Games, Treasure Hunt, The Zodiacs Rock Group, Scottish Dancing & Pipe Band, a repeat performance of "Riverstone This is Your Life", Fire Demonstration, a Doll Collector's Display and the Q Theatre's Children's Street Theatre Group. A whole beast was donated by the Riverstone Meatworks for a barbeque.
The evening celebration was a Dinner Dance held in the Jack Lang Auditorium at the High School where a capacity crowd of 400 people enjoyed food and fellowship. The function was catered for by ex-students Helen Liepa (nee Wheeler) and Barbara Whyte (nee Strachan). Ex-students' band "The Zodiacs" fronted by Brian Weaver and Brian McCombe accompanied the dancing. Former 1940s student Clarrie Neal, now Vice-President of the Historical Society, organised a table of fellow students & their teacher, Jim Russell. This was to be the fore-runner for the very popular Riverstone Public School Reunions Clarrie was to organise for the following 30 years. It also marked the beginning of Clarrie's amazing compilation and collection of Riverstone History Booklets for the Museum's Reading Room. At the Dinner Dance Primary Deputy Principal, Harry Hyland, presented Judith Lewis with a gift of appreciation for the work she had put into the celebrations.
On Sunday, 27th March the celebrations concluded, with an Interdenominational Church Service at the same venue, which was attended by about 300 people. The service was conducted by Rev. Bill Newton from St. Paul's Church of England, Rev. Nick Fried from St. Andrews Uniting, Mr. Pearson from the Baptist Church and Sister Maria Roman from the Catholic Church.
The choir began the service with "Prepare Ye the Way of the Lord', this was followed by everyone singing "Praise My Soul the King of Heaven". Principal Stan Fulker read the first lesson with 93 year old former teacher, Mrs Nora Cupitt, reading the second (and doing it without the aid of glasses)! The choir sang "Pass it on" and pupil Helen Aldridge read the Gospel which was followed by an address. After the hymn "God has Spoken by his Prophets" there was an offering of gifts including one for the United Nations Children's Fund. The service concluded with the hymn "Lord of Creation", a fitting finale to what had been a real celebration of the first hundred years.
Photos: Riverstone Public School.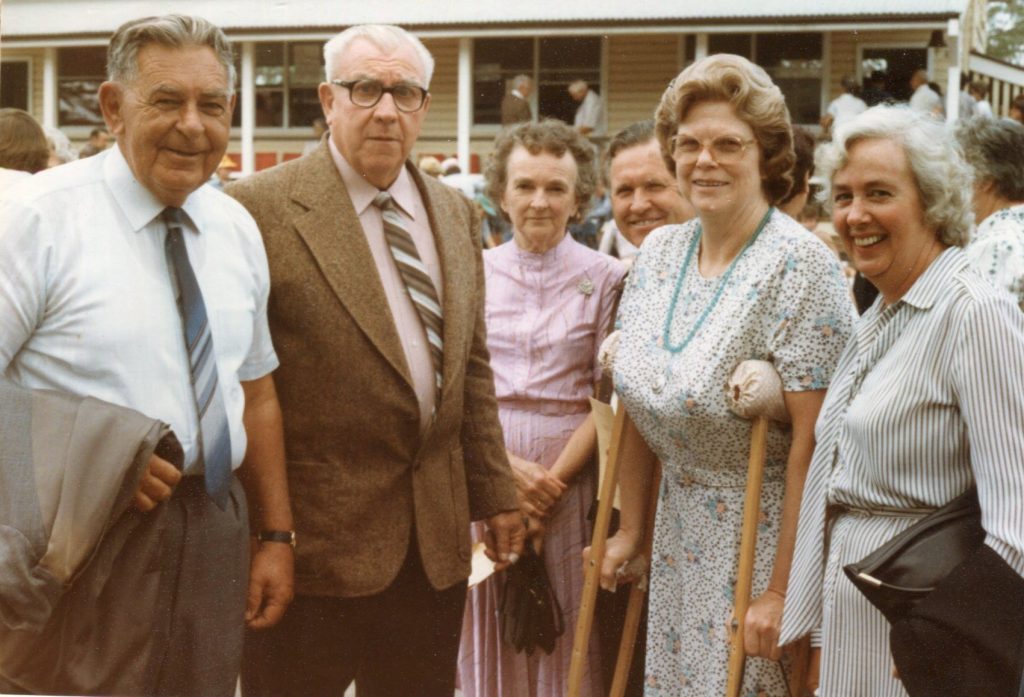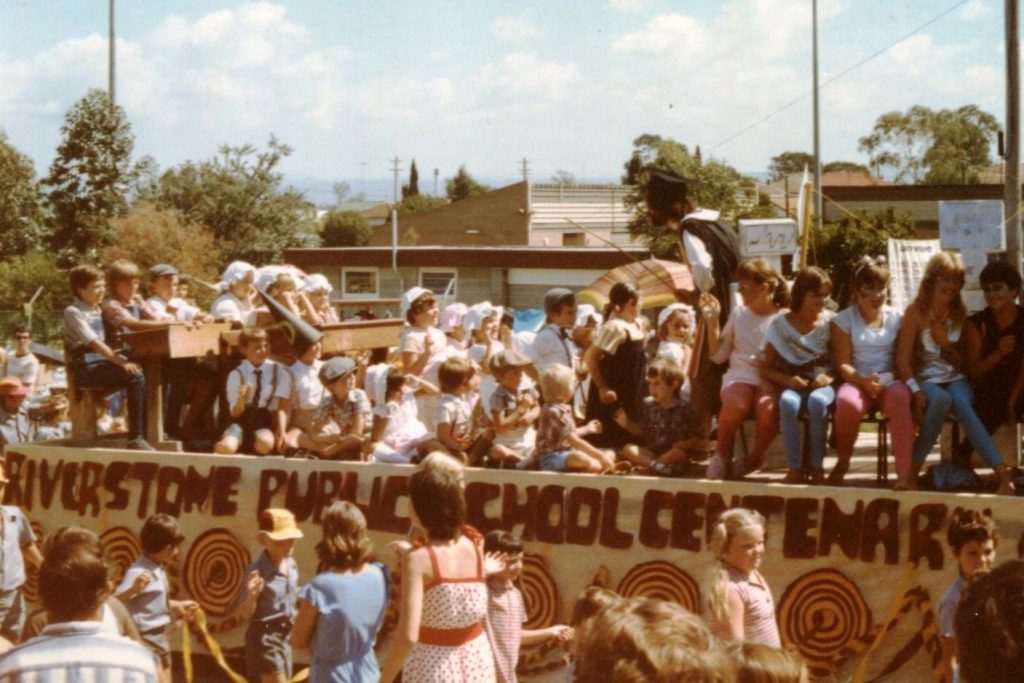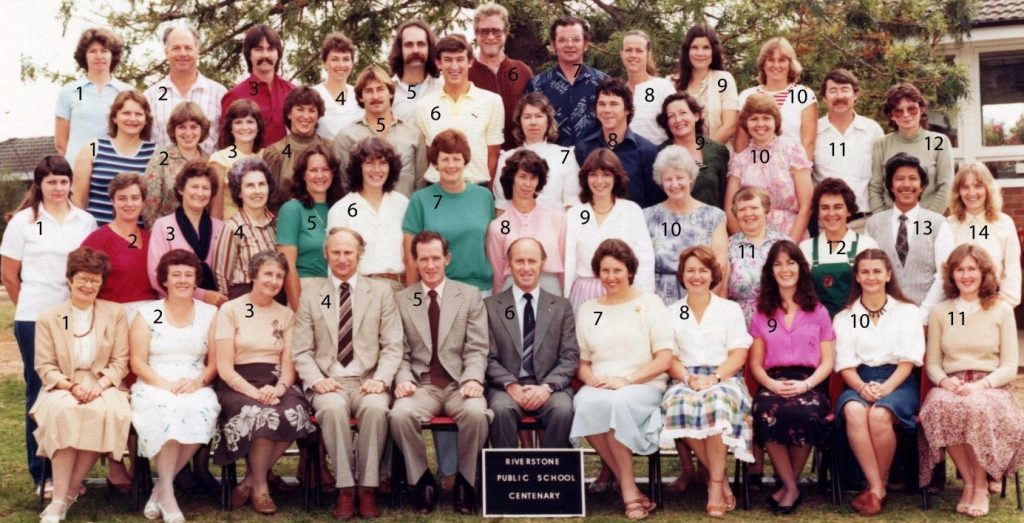 Back Row:
1. Kay Seget 2. Jim Gillespie 3. Charlie Lane 4. Vicki Malin 5. Paul Regan
6. A. Pearce 7. Brian Hubbuck 8. Sue Tsicalis 9. Joan Woods 10. Julie McMahon
Second Back Row:
1. Christine Chodaeswicz 2. Joy Robson 3. Heather Bromhead. 4. Debbie Burton 5. Darryl Roberts 6. David Bamford 7. Anne? Sutcliffe 8. Warren Minton
9. Jacquie Miller 10. Mary Gillespie 11. Greg Bannerman 12. Lorraine Wood
Second Front Row:
1. Lorraine Bannerman 2. Kerry Garven 3. Mary McNamara 4. Moyra McHugh
5. Helen Palmer 6. Jean Williams 7. Pat Sutherland 8. Leslie Russell 9. J. Cutts 10. May Keegan 11. Maisie Gillespie 12. Ros Benton 13. Jim Lee 14. Lindy Thomas
Front Row:
1. Jill McGregor 2. Helen Muir 3. Judith Lewis 4. Ian Woods 5. Harry Hyland 6. Stan Fulker 7. Jeanette Edgecombe 8. Anna Neill 9. Barbara Roberts 10. Jill Crane 11. Sue Mann
Absent:
Margaret Crouch, Denise Barker, Jane Pugh, Jenny Speechley
Diane Hungerford, Wendy Bennett, Winsome Phillis, Dorothy Dibley