We are always interested in hearing from people using the website. Do you want more information on a topic or to leave some feedback? Do you have any photos (that we can copy) or information to add to our collection?
We want to save this history for future generations, can you help?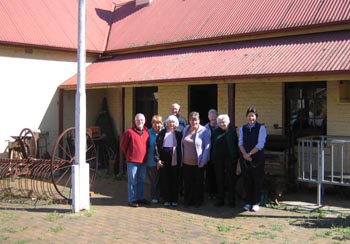 We can be contacted via mail, in person at the museum or using the museum's e-mail address.

Mail:
Riverstone & District Historical Society
PO Box 202
Riverstone, N.S.W.,
2765

At the Museum:
81 Garfield Road East
Riverstone,
N.S.W., 2765
(open first Sunday of every month, except January, 11 – 3pm)

E-mail:
info@riverstonehistoricalsociety.org.au(nospam)
…remove '(no spam)' from end of e-mail address before using.

The society is staffed purely by volunteers, so please allow a couple of weeks for any response.

Volunteering at the Museum
We can always do with more help at the museum, if you are interested in volunteering at the museum, please contact us.