by Judith Lewis
Planning for Riverstone's Bicentennial Year began at the May 2009 Riverstone Festival following a discussion between Historical Society members and Blacktown City Council's Events Co-ordinator, Peter Filmer, whose late mother, Margaret Steele, was a former Riverstone girl. Margaret's father, Peter, was foreman of the Stores at Riverstone Meatworks from 1939 to c.1973. The Steele family was listed as residents of no. 29 Richards Ave., (Butchers' Row) from 1939-1966.
Peter Filmer wasted no time. At Council's meeting of 27th May it was resolved "that Council establish a Sub-Committee, as soon as possible, of Historical Societies, Interested Community Groups, Schools and Business Community to organise the Bicentennial celebrations for Riverstone which was established following a land grant on the 7th May 1810".
The meeting took place at Riverstone Community Hall on Monday 31st August, with Councillor Alan Pendleton in the chair. Amongst the 30+ in attendance were Councillors Allan Green and Nick Tyrell, representatives from the Riverstone Dolphins Swimming Club, Historical Society, Lions Club, Neighbourhood Centre, St. John's School, Families Connect, Senior Citizens, Chamber of Commerce, Uniting and Anglican Churches, the Memorial Club and Rouse Hill Farm.
Decisions made at this first meeting included:-
Events should celebrate all of the first 200 years and, as such, the Motto should be, "Riverstone – The First 200 Years".
A Poster Competition to be run in local schools. – Families Connect's Tricia Young and Stacey Crowley volunteered to promote this with the schools in Term 4. The Uniting Church, through Ernie Benz, would work towards having their Christmas tree lights resurrected as an iconic start to the year of celebrations.
Whilst a Bicentennial Committee was formed it was agreed that meetings would remain open to the public. The Committee included Peter Filmer, Councillors Pendleton, Green and Tyrell, Phyllis McAlpine – Festival Committee, Vikki Durrant – Neighbourhood Centre, Wal Smith – Lions' Club, Tricia Young – Families Connect, Judith Lewis, Rosemary Phillis and Cheryl Ramsden – Historical Society and Glenn Hunter – Memorial Club. Regular attendees at future meeting were also to include Beryl Pendleton, Cathy Downey, Doreen Ross (until her sad death in March 2010), Margaret Mills, Lorraine Smith, Ernie Benz, Dennis Greenwood and Cathy Cummings.
Monthly meetings ensued. By the October meeting Alisha Cousins from Blacktown City Council's Events Team had set up a website for the Bicentennial within Council's website. Tricia and Stacey were now actively promoting the Poster Competition within the schools and a Poster Judging Committee was formed which, with Tricia and Stacey, also included Alan, Judith and Ernie. Judith made enquiries about the availability of the bell from St. Paul's, originally from Riverston Farm (this proved to be too difficult to remove from its position at the church). This meeting also confirmed that Council's Events Team would take over the Festival Street Parade and monthly activities would centre around the Museum to coincide with its Open Day, the first Sunday of each month. By the November meeting a draft programme was underway and enquiries were being made about replacing the use of the bell with the use of a Meatwork's siren.
On Monday, 7th December the Poster competition was judged. Tricia and Stacey had been able to involve 140 students from four local Primary schools – Riverstone, St. John's, Marsden Park and Vineyard and 27 from Riverstone High School. Each of the 167 students was to receive a Certificate of Appreciation. Winners were chosen from each school and those entries were to be framed and presented to the students at the launch of the Bicentennial Celebrations on 7th February. The two overall winners, Emily Pender from St. John's and Jayme Ross from Riverstone High were to have their designs transferred to banners which were to be unveiled outside the Lions' Park on that day.
At that evening's meeting the Chair introduced Jenny Bissett, Manager of Council's Arts and Cultural Development Department. Jenny talked about organising the painting of a Mural by a preferably local artist. A Committee, comprising Alan Pendleton, Vikki Durrant, Rosemary Phillis, Doreen Ross and Ernie Benz, was formed to liaise with her. (Later, it was deemed that the cost and viability of using a local artist would be unworkable and Tricia and Stacey were to volunteer to work with the Art Department at Riverstone High on this project.)
Memorabilia to be sold for the Bicentennial Year was decided. It would include badges, bookmarks, 'fridge magnets and pens (to be purchased by Council). Coffee mugs were suggested and later donated by Ernie Benz who also donated commemorative beer and wine glasses. Later that December, with the assistance of a local lumberjack, Ernie Benz was true to his promise and the Uniting Church's Christmas tree lights once more shone over the town.
2010 arrived. Council, proudly supported by Riverstone Schofields Memorial Club, produced and distributed "Riverstone Bicentenary 2010 Events Program" containing a history and photographs and listing events from February to July.
Sunday 7th February officially began the celebrations with Blacktown City Mayor Charlie Lowles opening the Museum's extension where the Historical Society members had mounted a most impressive 1950's display. Jayme Ross and Emily Pender were presented with framed copies of their artwork at the celebrations. Wet weather meant the cancellation of the proposed Lions' Park picnic but it did not deter locals, and people travelling from farther afield, who attended in droves.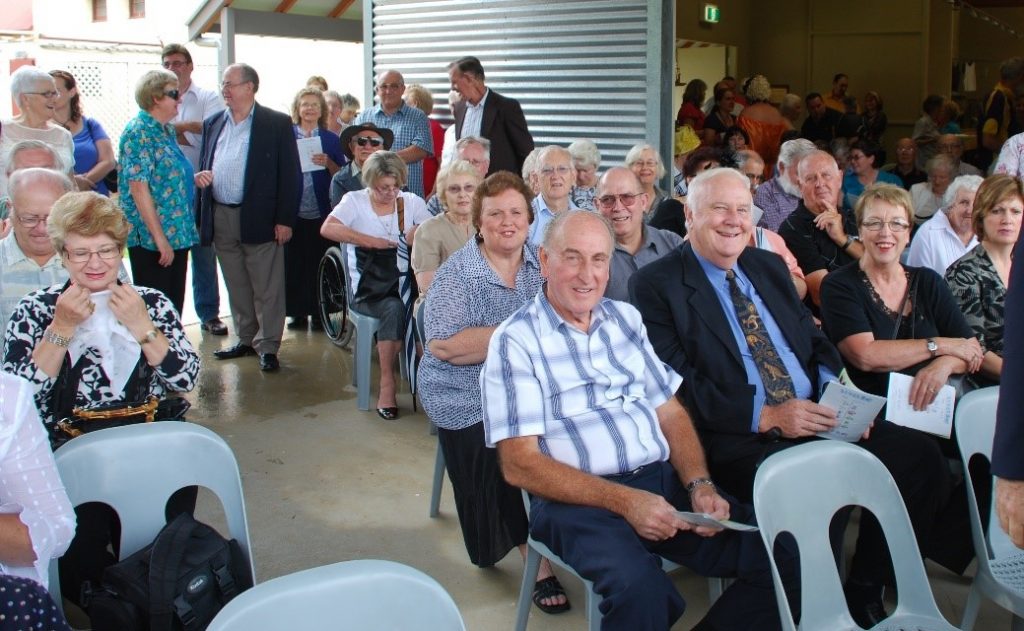 Jayme Ross from Riverstone High and Emily Pender from St. John's were presented with framed copies of their artwork by Alan Pendleton and Charlie Lowles. Photo: Rosemary Phillis
On 7th March the weather was kinder as visitors were welcomed to "Back to Riverstone Morning Tea" at the Museum. Likewise on April 4th, when a "Combined Churches Easter Service" was held in the Lions' Park and on 11th April, when the Park and Museum hosted National Trust Heritage Festival Celebrations.
The weekend of 13th to 16th May was one not experienced in Riverstone since the "Back to Riverstone" in 1934, which celebrated the arrival of water and electricity to the town. Riverstone Neighbourhood Centre began, on the Friday evening, with its first ever three day Art Show in the Community Hall.
The 10th annual Riverstone Festival on Saturday 15th May began with the releasing, at 9:00am, of hundreds of homing pigeons. At 11:00am the meatworks siren heralded the start of he Street Parade, which was led by the Historical Society depicting events of the past 200 years. 600 bicycle riders took part in the Ride to Riverstone Bike Ride organised by the Lions' Club. A Masters' Rugby League game was played on the Basil Andrews' Field and that evening a large crowd attended the Riverstone Junior Rugby League Football Club's 95th Anniversary dinner at the Bowling Club.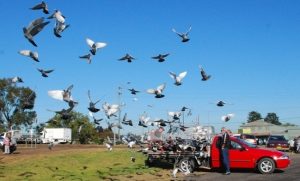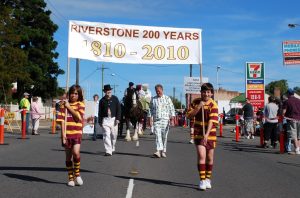 At the June meeting Stacey was able to provide a sketch of the proposed mural being undertaken by Art students from Riverstone High School. Council would be covering the cost of the paint and the boards on which the mural was to be painted. June and July also meant busy days at the Museum Open Days with two new initiatives from the Bicentennial Committee – a Commemorative Paving and a Time Capsule Project. Each would involve community participation with Paving Project application forms due to be lodged by 31st July and Time Capsule items to be left at the Museum. The 2nd Edition Program came out in July and on 18th July the Riverstone Bicentenary Tree Planting Day was held at Knudsen Reserve.
At the August meeting Kevin Polly from the Events Team at Council spoke of the difficulties they had encountered in obtaining a suitable Time Capsule in Australia and he was now looking overseas. (The Time Capsule was finally purchased by Council from the USA.) Paving Project applications orders were received for 102 single, 97 double and 2 image logo pavers and enquiries were still being received. With orders still coming in Peter suggested a second lot of pavers might be ordered in 2011. Alan visited local schools during Education Week to present the Certificates to all the students who had entered the Poster project. He also left bookmarks to be presented to all students and badges for the staff.
The Lions' Club showed a free movie, "Avatar" at the Basil Andrews Field in September. On the October Weekend, 2nd and 4th, Riverstone Bowling Club hosted a Bowls Tournament with prizes of $5,000, attracting bowlers from around the state. The winning pair on the Saturday was local and Historical Society member, Graham Britton, and former local, Barry Drayton. On Saturday 23rd October Historical Society's Vice- President Clarrie Neal organised a School Reunion for those who attended Riverstone Public School prior to 1960. Over 100 people attended, many coming from the country or interstate.
The Bicentennial Finale on 7th November proved to be one of the most successful events. A large crowd was present for the unveiling of the Pavers and the putting down of the Time Capsule. Another busy Museum Open Day and Picnic in the Park with free rides and activities for children, displays and stalls and stage entertainment followed these ceremonies. In his speech Chair of the Bicentennial Committee and now Mayor Alan Pendleton congratulated the Committee on their work over the past 16 months, commenting that it was the best Committee with which he had ever been involved.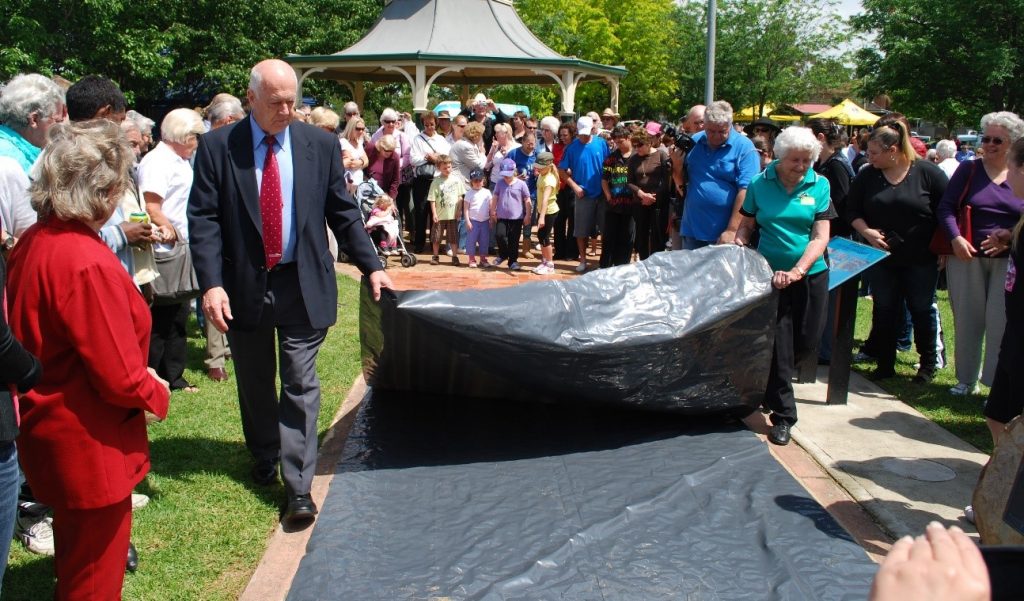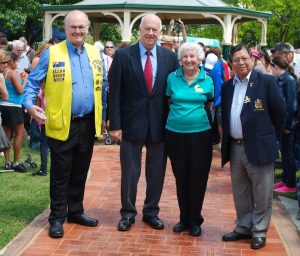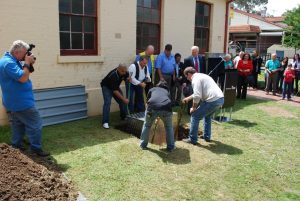 On Saturday 4th December Mayor Pendleton once again officiated, at the unveiling of the mural on the alcove at the southern end of Marketown, calling the mural "a piece of artwork the community can reflect on now and for many years to come". The striking mural was supervised by High School Principal, Alistair Yates and teachers Alison Lamb and Keryn Lambert and was painted by a total of 38 students from Years 8 and 9 with all students from Year 7 and the Support Unit also getting the opportunity to paint a small part of the mural. Jayme Ross, Cassandra Burke, Mikayla Tabone, Kim Tabasa, Shiraz Costello, Natalie Johnston, Gemma Douglas and Claudia Reed were the students who contributed most to the completed artwork.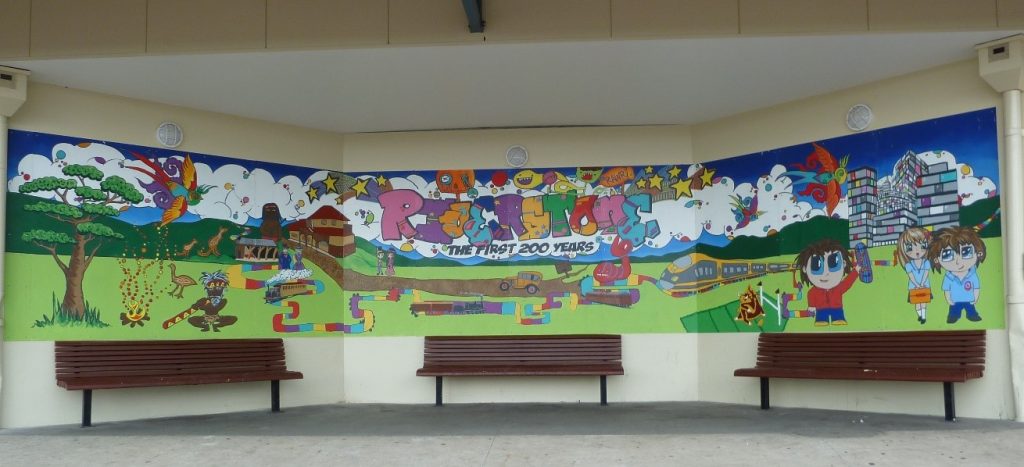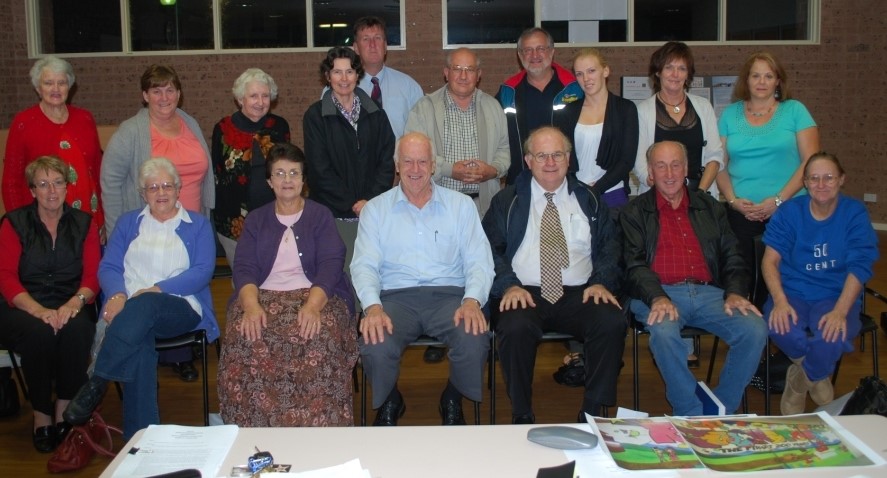 On Australia Day 2011 the Bicentennial Committee was awarded Blacktown Council's Australia Day Award for Community Event of the Year and Historical Society Secretary Rosemary Phillis was named as Blacktown's Citizen of the Year for 2010, a truly fitting finale for such a special year.