by Heather Smith
In 1950 on behalf of the Riverstone and District Civic Centre Co-operative Ltd., chairman Dr. Frazer-Boag announced the Co-op., had purchased a parcel of land on Railway Parade as part of a general plan to construct much needed amenities for the town. He explained the venture was to construct a swimming pool, bowling green and large club house. "A large club house would be very suitable for meetings and entertainment." he added. Unfortunately, a water course running through the site made the land unsuitable for a swimming pool and coupled with a lack of interest and funds plans were put on hold.
On November 18th 1952 a group of locals with a provisional Chairman Mr. J.C Burns and provisional Secretary Mr. C. Chapman met and planned to establish a bowling club on the site. It was decided to call, at a later date a general meeting of all interested with a view to enrolling members and making all necessary arrangements for the organization and development of the Riverstone and District Recreation and Bowling Club.
Recommendations set by the meeting included joining fees be set at 5 pound 5 shillings (approx. $12) for the first year and thereafter an annual subscription of 3 pounds 3 shillings (approx. $6.50). It was further recommended that in return for construction of the green, provision of the club house and other facilities by the Co-operative a sum equivalent to 85% of the total profits from Club's activities would be paid to the Co-operative during the first 12 months with the percentage to be reviewed at the expiration of the 12 months.
The response from the town was excellent and the Club made a successful application to join Nepean District Bowling Association for permission to play Pennants in the Nepean competition.
A group of dedicated volunteers led by Harry Hynes Snr. and Lionel McCutcheon then commenced work on the first bowing green parallel to Pitt Street. Once the work was underway the Chairman of the Greens Committee of NSW Bowling Association was invited to be guest of honour at a function organised by the Co-operative. He commented most favourably on the work in progress and gave some expert advice on further establishment of the bowling club. By late 1953 work was almost completed and members then had the opportunity to obtain a club house.
Windsor Bowling Club a well-established club in the District since 1935 offered Riverstone their old club house at a cost of seven hundred pounds ($1500}. To cover the cost of the purchase (originally an ex-army hut) plus transport and installation 10 pound ($20) debentures were bought by members. The hut was split into two and transported on trucks down to the site on the corner of Mill and Pitt Sts., and settled adjacent to the completed green. Voluntary labour installed the foundations, electricity, water, storage shed and the newly built toilet block complete with pump out septic sewerage.
The green which the Co-operative had commenced construction on was taken over by the newly formed Bowling Club and under the guidance of Harry Hynes Snr., and Lionel McCutcheon it was completed and playable in 1956. A liquor licence was then obtained and Les Britton and Arthur Denman were engaged as part- time stewards on Saturday and Sunday and the Club was open for business. A Committee was set up to provide refreshments with a jar being placed on the bar for contributions as the club did not have a poker machine license. However this changed in 1960 when a license was granted and the club installed 10 Silver Jubilee poker machines. Members assisted in the bar and with the outside work and the Ladies Auxiliary helped with the food on social occasions. Sporting history was made when the Women's Bowling Club was formed in 1957 the first of its kind in the Region.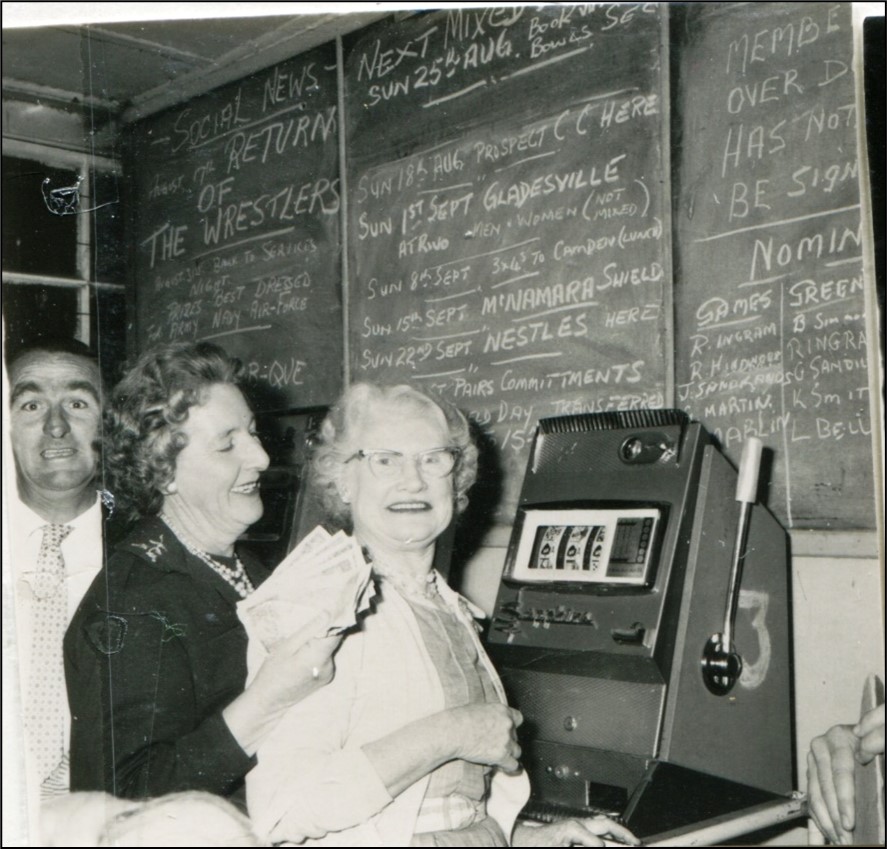 On 5th October 1961 the club held its first annual dinner President George Johnston, and Secretary Mr. Max Marlin welcomed 75 members and outlined the progress of the club during its first five years their words were endorsed by Mr. Jack Danks Treasurer and Mr. George Watson spoke on behalf of the members sounding a confident note for the future welfare of the Club especially as the second green was nearing completion. Other visitors of note were Mr. Graeme Bloxsom General Manager Riverstone Meat Co., Mr. Jack Pringle Riverstone R.S.L Club and Mr. Ken Lyons Hawkesbury Consolidated Press. Excellent organization by the social committee headed by Mr. Frank Coates and assisted by Jim Allsop and Bob Morris ensured a 'delectable' three course dinner and entertainment by Gordon White, Dick Stacey and Bill Miller rounded off the festivities.
The club not only became a sporting venue but also a social success on Saturday nights the old hut reverberated with music supplied by Billy Miller's Band and cabaret concerts always drew a packed house. Families young and old spun in the dance floor and many a romance was kindled in the progressive barn dance. The success of the Club enabled them to purchase the land from the Co-operative which unfortunately encountered financial problems and folded in 1958.
Riverstone club gained State-wide attention when Les Bell in 1961-62 won the State singles Championship, a feat he was to repeat in 1965-66 and went on to represent NSW in interstate matches.
Good management and growing membership saw the Club forging ahead and within a few years a move was made to build a new club house. Miller's Brewery offered to finance the construction but members felt this sponsorship would tie the club to the brewery for many years so the offer was declined. Fund raising began in earnest. Over two years bowlers raised eighteen thousand pounds ($40,000.00) with Builders Days when all bowlers around the District were invited to play. Entry fees, raffles and a temporary bar set up in the middle of the green (strictly illegal) kept the sales flowing. Tenders were called for the construction of a new bowling club house and the successful tenderer was W. McNamara Pty Ltd., with a quote of sixty five thousand pounds ($140,000) and with Architect Kevin J. Curtain and a loan from the Commonwealth Bank the plans for the new club house became a reality.
In 1964 work commenced on the building Brian Watts was Foreman and working staff during construction were –
Carpenters – Jim Wolfe, Neville Vaughan, Albert Talbot, Stan Lawson and Graham Noble.
Apprentices -Col. Watton Andrew Pearson (1st Yr ), George Stanley (4th Yr.)
Labourers – Les Britton, Cecil Davies, Warren Cook.
All rounder – Jim Hanney
Back hoe operator -Charlie Sandilands
Subcontractors Alan & George Race(brickies) (Acrow) and Plasterers Freestone and Co.
Painters – Julie Schultz and Jim Allsop.
The new bowling club was to be constructed over and beside a natural water course the reason why the original idea of a swimming pool on the site had been abandoned. The water course commenced in front of Riverstone Public school ran down Garfield Rd., then cut across, across to Market St., and down to Park St here it turned left at Pitt St., travelled over the bowing club site down to Mill street where it runs parallel to Riverstone Parade before crossing under the railway line adjacent to Church St. Large concrete pipes had been installed to capture this water course however when excavations for foundation work began the water table at the northern end of the building caused havoc. This was overcome by using water pumps to continuously drain the excavation enabling reinforcing to be installed and the footings filled with concrete to stabilised the foundations of the building. The No.1 bowling green is built directly over this watercourse.
Sewerage was not yet available in Riverstone so a hole 6m x 6m had to be dug to install a septic tank. Charlie Sandilands commenced the job with the back hoe but soon struck rock and could not go any further. So, Jim Henney who claimed some knowledge of explosives- gained in the Army – decided to take charge and blast through the rock. The charges were set and covered with a blasting mat. These mats were made from sliced up rubber tyres bound together with cable and chains and placed over the blast to suppress noise and dust as well as prevent flying rocks. Unfortunately the blast proved too much for the mat which did not contain the force of the explosion and blew the heavy mat high into the sky. It plummeted down to earth landing on the nearby electricity transformer and "blacked out" the entire town. However by November 1964 the new club house was completed featuring full length glass windows on the western side looking onto three (3) top class bowling greens and landscaped rose gardens. Entry from the car park on the eastern side of the building led to a small lobby where guests were required to sign a visitors book this area also contained the Bowl's Secretary office. Double glass doors led into the social area of the club, poker machines, two billiard tables, locker rooms, change rooms, men's toilets and seating and tables for 100 people. Folding concertina doors divided the areas which were opened on social occasions to reveal a spacious auditorium and stage plus a kitchen and board room. Finally at the southern end of the building was another much larger entrance hall plus a small reception area and ladies toilets and female locker room. Truly an amazing update from the old army hut which was once again on the move and went on to enjoy another life as club house for the Riverstone Guides.
Club facilities continued to be upgraded and in 1971 a squash court and spa were added also the kitchen was updated and enlarged to include a sit down bistro area. Plus a full-time Secretary Manager was appointed.
Like every sport Riverstone participated in they soon rose to the top and Bowls was no exception. By 1972 they were the No.1 Pennant team in the Zone winning District, Zone and advancing to the State Finals defeating the strongest teams in the State. Unfortunately, they were defeated by Kahibah Club from Newcastle in the final. The outstanding bowlers in this team were all local boys Alan Orr, Kevin Smith, Pat Worboys, Teddy Dawson, Reg. Woods, Bill McNamara, Brian Doolan, Toby Marlin, Alan Wallace, Jimmy, Charlie & George Sandilands, Barry Allison, Barry Wood , Peter Rosa and Ron Miller all local boys.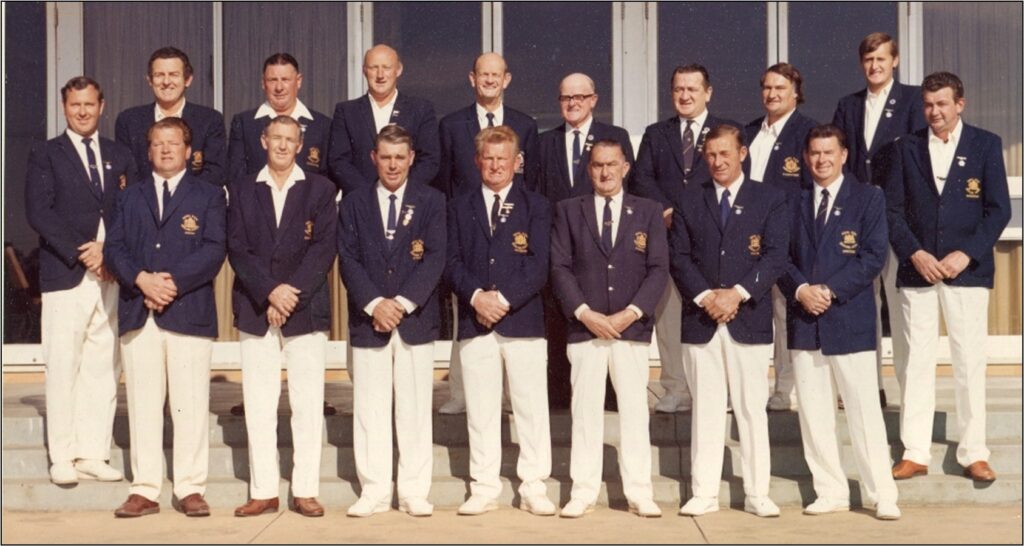 One of the most famous Riverstone bowlers was Eric Magennis. The victim of a tragic motor cycle accident which left him a paraplegic he coached netball teams, played wheel chair basketball at Olympic level and went on to win gold at the Paraplegic Olympics winning medals in the Singles and Pairs.
Unfortunately, many of the top local bowlers were gradually lured away by bigger Clubs, Charlie Sandilands and his son Shane, Kevin Smith and Les Bell all went to play No. 1 Pennants at St. Marys Club. They were then approached by St. John's Park who offered lucrative contracts to the group to revitalize bowls in their newly renovated Club. It was an offer too good to refuse and together with a fourth player Paul Norris they put St. John's Park on to the map. Cameron Curtis, Jim Morrison, Trevor Kable and Brian Robson were to name a few and as well as playing the four Riverstone players also coached the teams. Finishing at the top for several years they won the No.1 Pennants State title in 1996 the forerunner of many similar successes.
In 1990 Charlie and Shane Sandilands, Kevin Smith and Paul Norris won the State 4's and went over to Perth to represent NSW only to be defeated in the final by Victoria. St Johns Park was now a leading Club in the State. In 1999 bowls was becoming more professional and Premier League was being trialled and each felt the commitment to Premier League would be too great. Unfortunately, Charlie had been diagnosed with cancer and Shane and Les decided to retire. Kevin who was now a State selector and coupled with work commitments made it difficult to travel to St. Johns Park 2 to 3 times a week and the Rivo boys decided to call it a day.
Kevin Smith was invited to take up the position of Bowls Organiser back at Riverstone and together with Colan Ryan (29) the young Secretary-Manager it was not long before big name sponsors were approaching the club to sponsor tournaments.
Riverstone club was always very family orientated as bowlers preferred to use money from the Club to benefit the community and as a result under the guidance of Col. Ryan in one year membership doubled. He introduced many days of free activities for the whole family at Christmas and Australia Day. Father Christmas (Colin Haywood) distributed generous presents and in January bowling celebrities were invited to show their skills in the game. Community families , regardless of their skill, experience or age were introduced to bowls by two of Australia's finest bowlers – Cameron Curtis and Rex Johnson. Together these two held gold medals from World tournaments and Commonwealth Games. Free lunch and entertainment was provided to all families
Riverstone now boasted the biggest and richest bowls tournaments in Australia $25,000 Pairs Tournaments sponsored by Bernipave gave local players the opportunity to test their skills against Australian and international players. Frank Crowley Triples $8,000 celebrated a long time member and Riverstone personality known by many as "Tootles Anderson" to name a few of the major tournaments.
Prosperous years followed however changing management saw the Club gradually decline and an agreement was reached to a takeover by the Memorial club with the proviso they would absorb the debt of $700,000.00 and include a 10 year tenure which would allow the bowling club to remain open and trade. However after 5 years this tenure was withdrawn creating a bitter dispute among many of the bowling fraternity who disagreed with the Board and to this day refuse to patronise the Memorial club.
Several schemes were broached by members to no avail and so on 30th November 2013 a large group of members gathered at the club house to say farewell to a club which had flourished for 60 years.
Authors Note: My thanks to Kevin Smith, John Watton, Bill McNamara and Graham Britton for their assistance in preparing this article.
Unless otherwise noted, photos from the Bowling Club Photo Album.