by Rosemary Phillis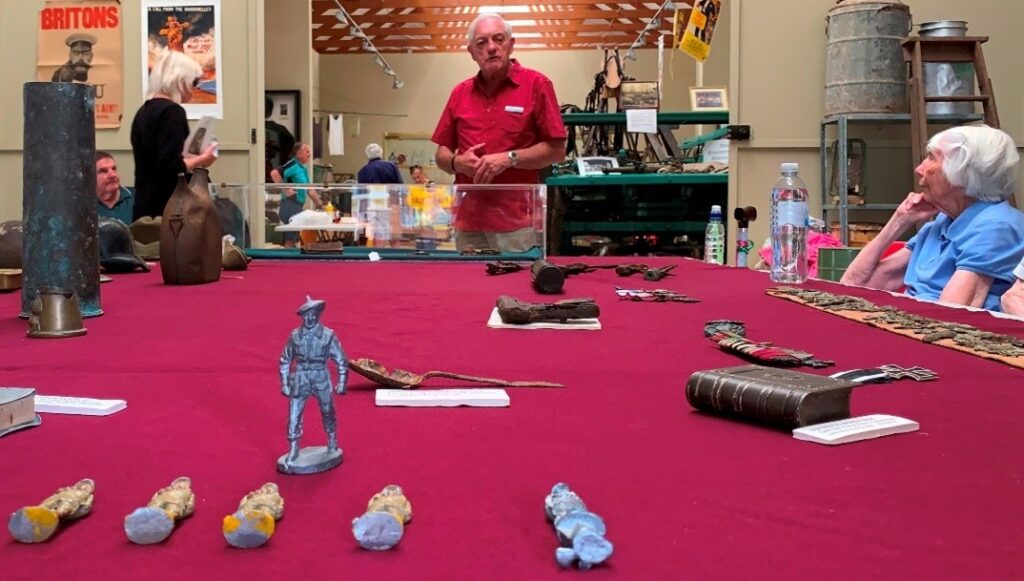 The November 2019 open day at the Riverstone Museum featured a display of artefacts from the First World War. Craig Laffin organised the display and spoke about the history of the items. The artefacts were collected from the battlefields years ago by his parents.
Craig uses a small part of the collection to teach school students about the war. The key feature being that the students are allowed to handle the items. They are also encouraged to think about what the story of each item might be.
Craig gave a fascinating talk, intertwining stories of his own life and experiences, with those of the artefacts. The story of "Shrapnel Charlie" captured the attention of the audience and Craig has written the following article especially for the Journal.
SHRAPNEL CHARLIE
Ivan Synnaeve was an extraordinary man. Born in 1953 but crippled from a work accident in 1991, he and his wife Marie-Claire, lived on the outskirts of Ypres in Belgium.  Ivan adopted an impossible mission; to return to their homelands, the British Empire troops who had lost their lives on the Western Front in WWI. Ivan especially strove to return our 50,000 Australian soldiers who had perished in Belgium and France. Ivan lived all his life on the Western Front and every day passed Commonwealth Military Cemeteries, reminders of the brutal frontline and heard stories of the foreigners who had come from the other side of the world to help free Belgium from German invaders.
Obviously actually returning our war dead was impossible. But Ivan had a dream which came instantly to mind as he passed a toyshop in 1996 and saw kit to make lead soldiers from moulds. He could return our war dead as model soldiers of AIF (Australian Imperial Force) Diggers. A legend was born in that moment, for until his death in March 2012, Ivan created thousands of model Australian soldiers, which came back to Australia via countless grateful Aussies.
The lead for the soldiers came from the bags of shrapnel balls which were given to him by Belgian farmers. Hundreds of millions of shrapnel balls were blasted over the WWI battlefields; small lead balls which exploded in the air from artillery shells and shredded men and horses. Battlefield farmlands still turn up military fragments; human remains, equipment, unexploded shells and countless shrapnel balls. Hence Ivan's nickname.
I last visited Shrapnel Charlie in April 2006. I led a group of 27 senior students from Nagle College, Blacktown South, on a history study tour to Europe; in Ypres we met Shrapnel Charlie and Marie-Claire. Shrapnel Charlie made his models in a back garden hut. He sat in his wheelchair and with no safety equipment, melted the lead balls to a fiery bubbling liquid. He poured this into moulds. When cooled the Australian soldier models were released from moulds and hand painted. To our eyes it was terrifyingly dangerous but Shrapnel Charlie's face lit with pleasure and pride in creating more diggers to return to Australia.
He and Marie-Claire came to dinner in our motel. Australian model soldiers were presented to each girl and teacher. We solemnly promised to return our diggers to Australia. They were later used in an Anzac Service at Nagle College. At one time John Howard our former Prime Minister was presented with model diggers and he also solemnly promised to return them to Australia.
Shrapnel Charlie Australian soldier models were shown to visitors who came to Riverstone Museum on Sunday 3 November 2019. The story was told of their origin. Cameras flashed. People looked in awe. Small painted figures displayed on a table – each a poignant reminder of service and sacrifice.
Ivan, Shrapnel Charlie, earnt for himself an indelible reputation and record as a friend of Australia. When I look at my collection of Shrapnel Charlie diggers, tears invade my eyes. I think of the men and women who served and sacrificed for Australia in WWI, I think of both my grandparents – soldier and nurse, I think of Shrapnel Charlie working diligently for years in his hut and dignified Marie-Claire, greeting Australian visitors to her home. Shrapnel Charlie is now passed into legend but his legacy is eternal, so long as even one model digger remains, like mine, on a shelf in my study.
LEST WE FORGET
Ivan with some of the ammunition lead balls from WW1.
Photo: Kevin Dougherty Stars and Stripes

An Australian Soldier made by 'Shrapnel Charlie'.
Photo: Rosemary Phillis