by Michelle Nichols
A M Belshaw's name is inscribed on the War Memorial in Riverstone. Who was he and how does he fit it into Riverstone's history?
Arthur Maurice Belshaw was born in Sydney on 10 April 1924, the youngest son born to Robert and Florence Belshaw. Known as 'Artie' he grew up in Rosebery and was passionate about flying and planes and was a member of the Air League. After leaving school Artie trained as a carpenter.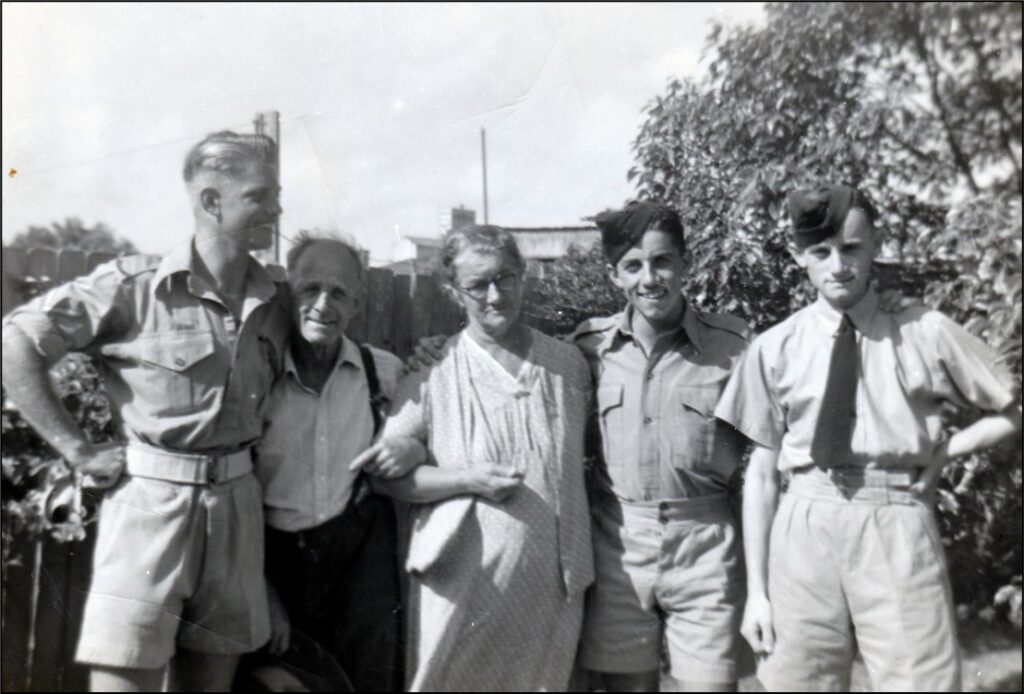 His RAAF records show that he had to obtain permission from the Department of Labour and National Services to leave his employment at Butler's Air Transport before enlisting. Permission was granted and he enlisted on 22 July 1942, aged 18 years and 3 months. The records show that he was 5 feet 5 inches tall, his complexion medium and had dark blue eyes and dark hair. His occupation was a Carpenter Rigger, with two years experience in aircraft assembly. At the time he was living with his parents at 19 Durdans Ave Rosebery.
On enlistment he was allocated to Trainee Group V. Four months later, on 5 October 1942 he was re-mustered to Armament School in Hamilton for a six weeks course on armaments. On completion of this course he was appointed to the staff at the armament school. During this time, in March 1943 he was promoted to LAC, Leading aircraftman. Artie transferred to 3BAGS in Sale, Victoria, a Bombing and Gunnery School, and was awarded his Air Gunner's Badge in July 1943. Four days later he was appointed to 3 OTU, the RAAF operational training unit at Rathmines on Lake Macquarie, the training centre for Catalina Flying boats.
In December 1943 he was appointed as a member of an aircraft crew and paid as an Acting Sergeant. From 18 to 30 December 1943 he was granted pre embarkation leave.
After a short eight day posting to No. 1RPP (Reserve Personnel Pool) based at Aitkenvale in Townsville he received his final posting in January 1944 to No 43 Squadron, where his role was that of an armourer on Catalina aircraft. Artie's records show his first operational sortie was on 27 January 1944. During his posting he was involved in four strikes and attacks, seven other operations. He had undertaken 96.55 operational day hours and 61.55 operational nights, with 35.25 other hours down.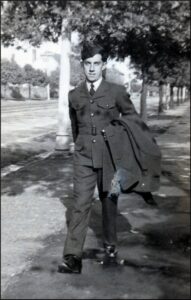 The last operational sortie Artie was involved in was on 21 April 1944. By then, the 43 Squadron was based in Darwin and undertook long range operations. The RAAF Casualty File for Arthur Belshaw reveals that he was one of nine crew on board Catalina PBY5A-24-53, one of seven Catalinas on a mission to a secret target. Their plane was observed to have been hit by enemy fire and exploded on the water about half a mile from land. Further explosions resembling exploding ammunition followed, the fire burned for about twenty minutes. There was intense searchlight and anti aircraft opposition experienced. The casualty took place at 0400 hours on 21 April 1944.
An Australian radio intercept recorded a radio TOKYO transmission that a long-range Flying Boat from AUSTRALIA had been shot down on the night and over the target on which A 24-53 was operating, at "Balik papan" but was no report on the fate of the crew.
The family were advised by telegram of the crash and that their son was missing believed killed. They were left in a state of limbo, not knowing, but believing that he may still be alive. His mother wrote to the Casualty Section in early 1945 seeking news on her son. The response letter dated 28 January 1945 advised that "in the absence of any definite evidence regarding your son's fate, action to presume his death should not be taken" and that he could be a "prisoner of war or captured by friendly natives", allowing them to continue to believe he could still be alive.
In 1945 The Sun newspaper 25 April reported on the Dawn Service in Sydney: 35,000 at Cenotaph at Martin Place in Rain for Dawn Service…. Some took up their position in Martin-place before 9 pm. Among the early arrivals were Mrs F. Belshaw, of Rosebery, whose son, Flight-Sgt Arthur Maurice Belshaw, has been reported missing, believed killed, in the Pacific.
After the war ended, the HQ Australian War Graves Group team started working on the case of the missing airmen. A vital part of the investigation were declarations by two Dutch Prisoners of War that they had been ordered by the Japanese to bury the bodies of seven airmen brought in by the Japanese after a plane crash. Their information allowed the graves to be located. Arthur's body was eventually identified using dental records, his clothing (overalls and rubber shoes) and most importantly witness reports that at the time of the burial he had been wearing a ring with the initials A.B. engraved on it. (The casualty section having written to the family in May 1946 advising of their investigations requesting to know if their son possessed such a ring. His mother confirmed that she had given her son a ring before he went away, it was in fact for his birthday. She also wrote that the family "still hold hopes of seeing him again" believing Artie may be alive, against all odds.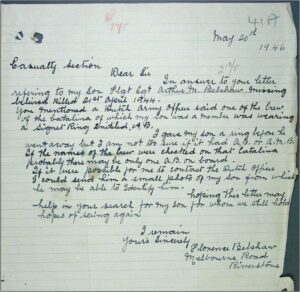 It was not until October 1946 that the family were formally advised that their son was now known to have lost his life on air operations on the 21st April, 1944. The letter detailed that
Your son's aircraft was shot down in Balikpapan Bay. The bodies of seven members of the crew were recovered and were buried by the Dutch Salvation Army officer in the Civil Cemetery at Balikpapan. One of these was wearing a gold signet ring with the initials A.M.B….both the Salvation Army Officer and another Dutch prisoner who assisted in the burial were quite definite about seeing the ring and the initials on it and were able to indicated definitely the grave in which the person wearing it had been buried, …. Your son's body has, therefore, been identified and reburied in the War Cemetery and Balikpapan…
Artie's final resting place is the Labuan War Cemetery in Malaysia. His headstone reads:
HIS DUTY FEARLESSLY AND NOBLY DONE EVER REMEMEBERED.
RIVERSTONE CONNECTION
The Riverstone connection came about when the Belshaw family moved from Rosebery to Lot 12 Melbourne Road Riverstone by mid-1946. The family consisted of Artie's parents, Robert Belshaw, and his wife Florence. Robert Belshaw was born in County Down in Ireland in 1886 and the family migrated to Australia in 1889. Robert married Florence Amelia Ponting in Sydney in 1906. In the family, he was known as 'Rob' and for most of his life his occupation was recorded as a carrier or labourer. The couple had five daughters and three sons born in Sydney between 1907 and 1923. Their eldest child, Doris had died when she was only eight, from appendicitis.
It is not known why the family chose to move to Riverstone however it may have been due to the availability of employment at Riverstone Meatworks. Also Artie's sister Florence, and her family had been residing in Riverstone since 1942. Florrie was married to John William 'Bill' Leach and the couple relocated to Edward Street, on the corner of Railway Parade, Riverstone, after the Japanese Midget Submarine attack on Sydney Harbour. They were accompanied by their children Joyce (Nichols), Fay (Priora) and Johnny. Bill's brother 'Bert' and his wife Dot, also resided on a block in Loftus Street. Their mother Lillian had apparently owned land in Riverstone but never lived there.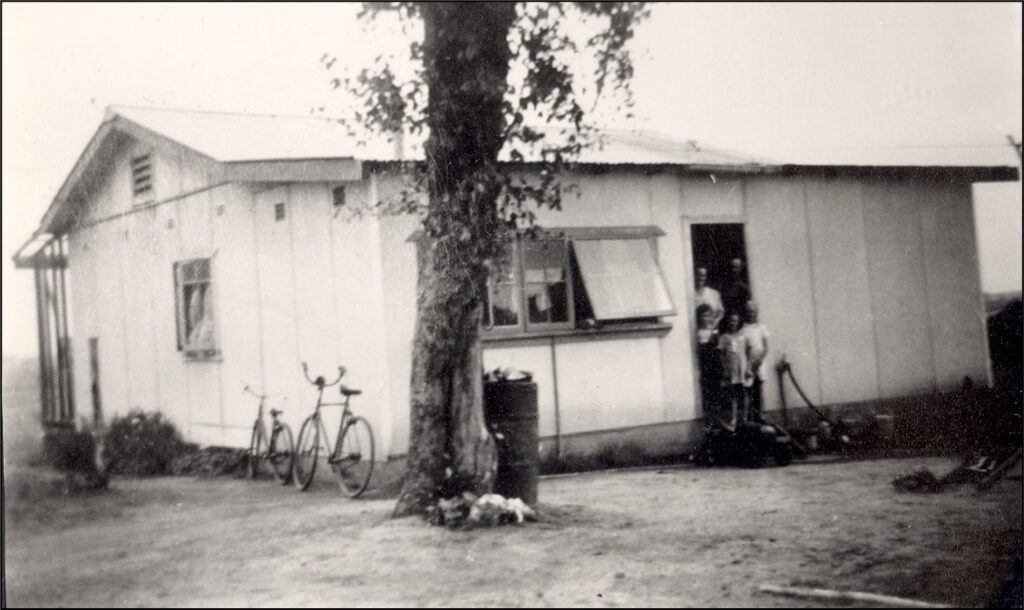 By 1945, Maud, younger sister of Florence Belshaw, and her husband Jack Hanlon, were also residing in Melbourne Road, Riverstone.
After the war, Artie's brother Lenny and his family also moved to Riverstone, living in Melbourne Road until the 1960s. Lenny was blessed with a fine physique and was a talented football player. In the 1950s he played in Riverstone's A grade team and was often mentioned for his prowess in the local papers. Sisters Phyllis and Lily lived for a time at Riverstone before their marriages. Lily moved to Riverstone with her husband Tom Ryan. Phyllis married Clarrie Davis in 1949 at Windsor but they moved to Toronto.
The softly spoken Irishman Robert Belshaw, had rheumatic fever sometime during his life, which damaged his heart. He was admitted to Windsor Hospital but died from rheumatic heart disease, aged 62 years. The family version is that he never recovered from the loss of his youngest son in such tragic circumstances, and died from a broken heart. The family were very close and were devastated with the loss of the patriarch of the family.
After Rob's death, Flo continued to live in Melbourne Road. Her sister Maud lived next door. Daughter Flo and husband Bill lived close, just a short walk diagonally through the bush. Bill Leach was jack of all trades and through his life he had been a carpenter, shearer and labourer. Bill with his brother Bert, constructed their small cottages, using a great deal of recycled materials. Bill used to bring the material up on the train and get the train drivers to drive slowly on the bend near Edward Street and he would throw the material off the train and then get off at Vineyard and walk back and pick it up. During the 1940s and 1950s Bill cultivated a lovely vegetable garden, including peas. He would sell these to the Stacey family who used to deliver vegetables in their truck around Riverstone. At one stage he helped deliver soft drinks but his main job for many years was working at Villawood Textiles, which later was relocated to the Riverstone Meatworks. It was at the Textiles that his daughter Fay met her husband, John Priora.
When Flo Belshaw's granddaughter Joyce Leach married Ern Nichols in 1953, she welcomed the young newlyweds into her cottage for several years until they were able to afford their own home. Joyce and Ern eventually purchased the block next door and Maud with Jack, moved to the bottom block of Flo's, facing Edward Street, building a small basic one-bedroom cottage.
In the mid-1960s Flo's eldest surviving daughter Edna, with her husband Arthur Green, moved into the house in Melbourne Road. In her old age, she suffered with heart disease and died in 1969 from a heart attack, aged 82.
When the family moved to Riverstone, they requested to have Artie's name inscribed on the monument in Riverstone, even though it was recorded on the Rosebery monument. Recorded out of order, it was added after the WW2 monument was established so that the family could commemorate their son, brother and uncle in their new home of Riverstone.