by Heather Smith
In 1878 Benjamin Richards founded the Riverstone Meat Works. The company flourished and when in the 1930s Australia suffered from the Great Depression men flocked to Riverstone seeking employment. By the 1940's there was full employment in the town and families were settled and their futures guaranteed. From these men descended the sons and daughters who made Riverstone the strong town it is today the Rivo boys and Girls. Historically the first families of Riverstone.
Steam trains disgorged the meat workers in the early morning some rushing up the road to be picked up for a day's work on the gate. Those who had already settled in the area rode their bicycle through the gate to the shrill sound of a siren which timed their shifts for 24 hours.
I went to school in 'Rivo' in the 1940's and mingled with the sons and daughters of these stalwart families. Now, as an octogenarian, I try to relive those memories of when I mingled with the Rosas, Jennings, Strachans, Shields, Wheelers, Freemans, Podestas, Schofields, Banks, Floyds, Neils, Freemans, Guntons, Mills, Sandilands, Nichols, Follets, Shepherds, Crouch, Cartwrights, Doolans, Lewis, Stacey, Bottles, Hilton, Donohue, Bradleys, Tozer, Tracey, Willis, Cook, Britton, Woods, Watton, Rumery, Davis, Mangold, Leach, Phillis, McNamara and Anderson. Truly some of the first families of Riverstone.
Every morning we walked to school, the boys never seemed to wear shoes and had the freedom of stepping in puddles or kicking stones along the way. Some of the more glamorous 6th Class girls sported a pair of their older sisters' "wedgies" however we girls with more conservative mothers were made to endure the indignity of lace up shoes with socks. School was the impressive grey building on the corner of Garfield and Piccadilly Roads proudly announcing on the front its heritage as 1928. A large asphalt assembly area at the rear of the building gave access to the weather sheds, the bubblers, wash basins and the lavatories which were emptied each week by the dunny truck. The entire facility was surrounded by vacant land Piccadilly Street, was still a dirt track and main sport in the playground for girls was hopscotch, fly, hop step and a jump and basketball later known as netball.
On the front wall of one of the weather sheds was attached the hand rung bell which was rung six times a day. It was always a privilege usually awarded to the boy who sat up the straightest when it was announced – "time for the bell" – to run from the class room across the asphalt area up the two steps to the weather shed and belt hell out of the bell.
More strenuous and active sports were indulged in across the road from the school where the Riverstone pool is now located. I remember quiet plainly, there stood on the corner of Market and Piccadilly streets, one of the largest trees in the district. It was here the girls played Rounders and Vigoro. This land was traversed by a creek and on the other side of the creek the boys played football, cricket and an all-in game of chasings.
In the 1940s one sport brought the town together and that was football played on a Sunday afternoon on the football field surrounded by the trotting track with a few wooden seats placed around the sideline fence. In the early 1950s cars began to appear and a proud girlfriend could always be spotted sitting on the bonnet of a newly purchased Holden. Sometimes the sideline was more exciting than the game, especially when Mrs Britton brought down the opposition with her umbrella, if they looked like threatening her son Lesley. In 1976 football united the town again when Riverstone High School University Shield team successfully played their way through to the Grand Final only to be defeated by Tamworth.
Sixty years later most of those early Rivo boys of the 40s and 50s are gone, however it was my privilege to be able to talk with Robbie Shepherd – Secretary and Life Member of the Riverstone Football Club after 30 years of service from 1962-1992.
Robert (Robbie) Shepherd was born on 29th November 1940 the son of Ann Marie Reilly and Garnet James Shepherd. He attended Riverstone school then on to Parramatta Junior Boys High which later changed the name to Macquarie Boys High. On completing his Intermediate Certificate his father obtained a job for him at the meat works on the mutton board, dressing out sheep and lambs. This job entailed gutting the animals for which he was paid the equivalent of $2 a beast. Robbie decided the job was not for him so he left and obtained a job at the Clyde Railway workshop however the conditions were not much better, as he was constantly working in steam and smoke and lasted only two days!
Finally, he in 1957 he saw in the Jobs Vacant Section an advertisement for an Apprentice electrician with the Commonwealth Dept. of Works at the RAAF base at Richmond. He started his Apprenticeship and later moved to the Navy base at Nirimba where he spent 5 years. Now a qualified electrician he transferred back to Richmond as Senior Leading Hand. He worked as Operations Centre Manager in Artarmon and retired in 1989 back at Richmond. Robbie did not play football but as a dedicated worker behind the scenes 1962 he stood beside such Riverstone sports leader as Basil Andrews, Eric Gunton, Michael Petro, Lyle Cunich, Georgie Simpson, Mick Shield and Dessie Cartwright.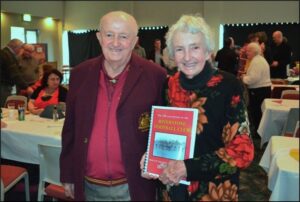 One of the most revered personalities of Riverstone has always been Dessie Cartwright who sadly passed away in 2018. Dessie was everything which epitomises a Rivo Boy. Born and bred in Riverstone, worked at the meat works and played football all his life. I was able to discuss Dessie's early life with one of his sisters, Blanche Buchanan, a member of our Historical Society. I also drew on Clarrie Neal's Football Book, to pick up details of Riverstone Rugby League Club.
Born in Riverstone on Christmas Eve 1933 he was eldest child of six girls and two boys born to Magdalene Rose (Anderson) and Alfred Francis Cartwright. His father Alfie Cartwright better known as "Stumpy" was a skilled leather worker his clients travelling from around NSW to have their harness made and/or repaired by Stumpy.
The highlight of Dessie's his life was his marriage to Dawn (Doreen) O'Brien on 6th February 1960 in St. John's Catholic Church Riverstone and he naturally held his wedding reception in the Riverstone Footballers hall (now demolished).
Dessie attended Riverstone school then went onto Richmond High, waiting only until he was 15yrs old and able to leave school, which could not come quick enough for him. He started work at the Meat Works as soon as he turned 15 and worked as a slaughterman in the Mutton House rising through the ranks to Foreman
Clarrie Neal, in discussions with Dessie records, "the 1950s was a golden era for Riverstone Club winning A grade and A Reserve Premiership in 1956 coached by Bobby Hobbs. Training was a serious business in those days after training Mick Woods would boil up a large pot of meat extract for the boys." Dessie played his first game of organised footfall in 1951 as a 17-year-old and began a lifelong association with the club, playing and coaching juniors. He was elected President in 1969 and held the position until 1973. He was awarded Life Membership of the Club in 1973.
He and Dawn with their four children Patricia, John Peter and Janette settled in Dingle Street, Riverstone where Des, a keen bird fancier, spent many hours in his back-yard aviary breeding and raising Canaries, Budgies and Finches. Sadly, they lost their son Peter in an accident. His children and grandchildren have also excelled in the sporting field. His daughters introducing him to Netball and John has carried on his father's love of football. As a Netball coach for his daughter Patricia, many a Saturday on the sideline, I was advised on team strategies.
Riverstone in 40s and 50s was a small close-knit community, then a town where workers knew the security of having a job for a life time, sons following fathers and uncles into a job at the 'works'. Hard working men and women who established history in a small community which must never be allowed to fade into suburbia. A town where some 80 years later I proudly recall Rivo Boys.