by Rosemary Phillis

Windsor and Richmond Gazette 29 October 1969.
On Saturday 25 October 1969, fifty year ago, the last regular scheduled steam train ran on the Richmond Line. A short description of the event was provided in the Gazette.
P Class steam loco 3324 made a brave showing as she pulled out of the Richmond platform on the 7.56 run on Saturday morning. As though aware of the significance of the occasion the old loco poured out a billowing cloud of thick black smoke from her funnel and a trail of steam hissed out from her valves.
A swarm of Railway Historical Society amateur photographers waited beside the line to catch the moment on film for this was the last scheduled steam train run on the Richmond line.
As from Saturday the few remaining P Class and small S Class tank locomotives have been taken off the line and will be replaced with 48 Class diesel-electric locomotives.
As nostalgic as this change might be to many steam train enthusiasts, Richmond housewives living close to the line are overjoyed at the thought of no longer having to cope with soot-blackened washing.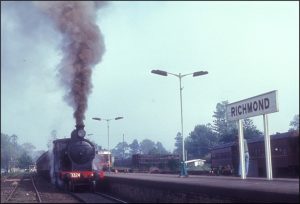 These photographs were taken by John Ward and record steam engine 3324 which had the honour of working the line and the last regular scheduled steam train on the day.