by Chris Counter
This horse was the mascot of the 6th Australian Light Horse Regiment that was raised in Sydney in September 1914 and is held in the photograph by an unidentified Light Horseman. The photograph was taken in November 1918, in part of the Ottoman Empire, Palestine, Mejdel Jaffa Area, Risdon. The horse was presented to the Regiment by Mr Colin Richards of Riverstone Meat Works, in 1914. 1
Horses had always been a part of the much-respected Richards family life, at work and at play and it is not surprising that he should present a horse to a local Regiment.
The photograph appears in the 6th Australian Light Horse Regiment history book, "Under Furred Hats." The book takes its name from the distinctive wallaby fur puggaree (hatband) worn exclusively by the 6th Light Horse Regiment. 2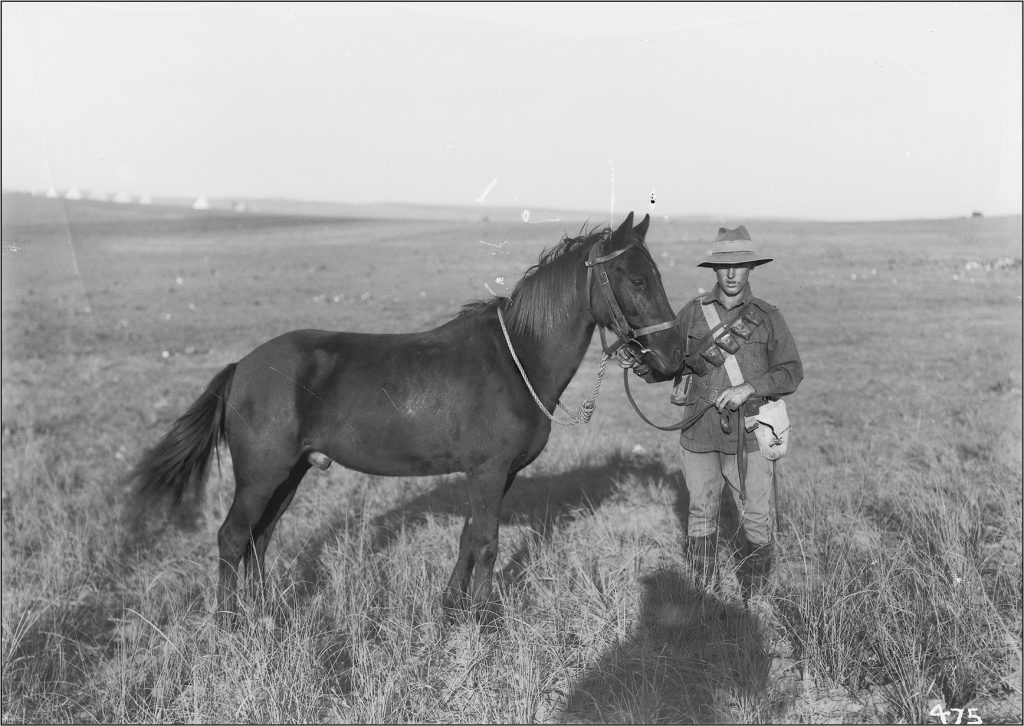 The well-liked Colin Richard's father was Robert Richards and his grandfather was Ben Richards, the founder of the Riverstone Meat Company. Following Ben Richards death in 1898, Robert Richards became proprietor of the meat works and other related companies. As well as his extensive business interests, Robert had a great an interest in horses and horse racing. He was a steward of the Sydney Turf Club and at one time had 16 horses in training. He enjoyed the reputation of being one who ran his entries purely for the sake of the sport. Robert unexpectedly died at his home in Randwick in July 1902. His funeral cortege was led by 150 employees of the meat works, eight of them acting as pall bearers. The names of six of the pall bearers were Messrs. H Strachan, D McCutcheon, G Connell, R Cruickshank, W East and O Walters. 3
For some time after his father's death, Colin was actively engaged in the operations at Riverstone through the firm, B Richards and sons. He was particularly well known in the pastoral life of the State having contact with graziers from all parts. He ran several cattle stations in his own right until taking a lease of Gnomery Station near Wee Waa where he died aged 67 in January 1925, leaving a wife and 3 sons. 4
In "Under Furred Hats" the unit history book includes the following affectionate testimonial regarding this horse: 5
It is difficult to single out individual horses, as men, but the excellence of our steeds generally was undoubtedly embodied in the Mascot – a thirteen hand pony. He was presented to the Regiment in 1914, and for a long time remained unattached to the ration strength. But eventually he won his right to be regarded as a horse, and throughout the whole of the campaigns carried an average weight man and a full weight of gear. Never did he knock up or cave in, and his fiery disposition was as unquenched when we handed him in in June 1919, as it was when he embarked in December 1914.
Two of Riverstone's Gallipoli / Light Horsemen saw service with the 6th Light Horse Regiment. They were both injured before the evacuation of Gallipoli and returned to Australia. 6
There is a second photograph of "The Mascot" in the unit history book, "Under Furred Hats" but the quality of the print makes it unsuitable to reproduce here.
References
1 Australian War Memorial B00475
2 Under Furred Hats, Geo L Barrie (Lieut) page 163
3 Sydney Wool & Stock Journal, Friday 25 July 1902 page 8, Trove, Death of Robert Richards
4 Country Life Stock & Station Journal, Tue 3 Feb 1925, Trove, Death of Colin Richards
5 Under Furred Hats, Geo L Barrie (Lieut) page 162
6 Riverstone and the First World War, RDHS
7 Under Furred Hats, Geo L Barrie (Lieut) page 157