by Nell Moody (nee Williams)
Ten shillings had a special significance for my father, Wally Williams. This was because that was the weekly wage he earned as a thirteen year old, for six and a half days work in 1909. He earned it as a farm labourer in Queensland. He was proud to be an earner. His sister told me that he would run some miles home to Warwick after he signed for it, after midday each Saturday, to place it proudly in his mother's hand.
His father had died of pneumonia when he was three, leaving his wife and five children, of which my father was the youngest, on a small, uneconomic farm in the Yarra Valley. They kept moving from one small farm to another, always fearful of debt. A fear my father carried all his life. Eventually they arrived at Schofields Farm Road. His brothers and sisters married and set up homes elsewhere.
After his mother died, my father married a local girl, Lillian Rothwell. Bad experiences during the great depression with jobs, led them to start a small produce business by themselves, to which my mother introduced hardware as time improved. They worked hard and by the 1950's Dad felt that he would like to do something for Schofields.
Walter and Lillian Williams nee Rothwell on their wedding day 25 February 1932
Photo: Nell Moody (nee Williams)

1943 or1944. Walter, Lillian and Nell Williams
Photo: Nell Moody (nee Williams)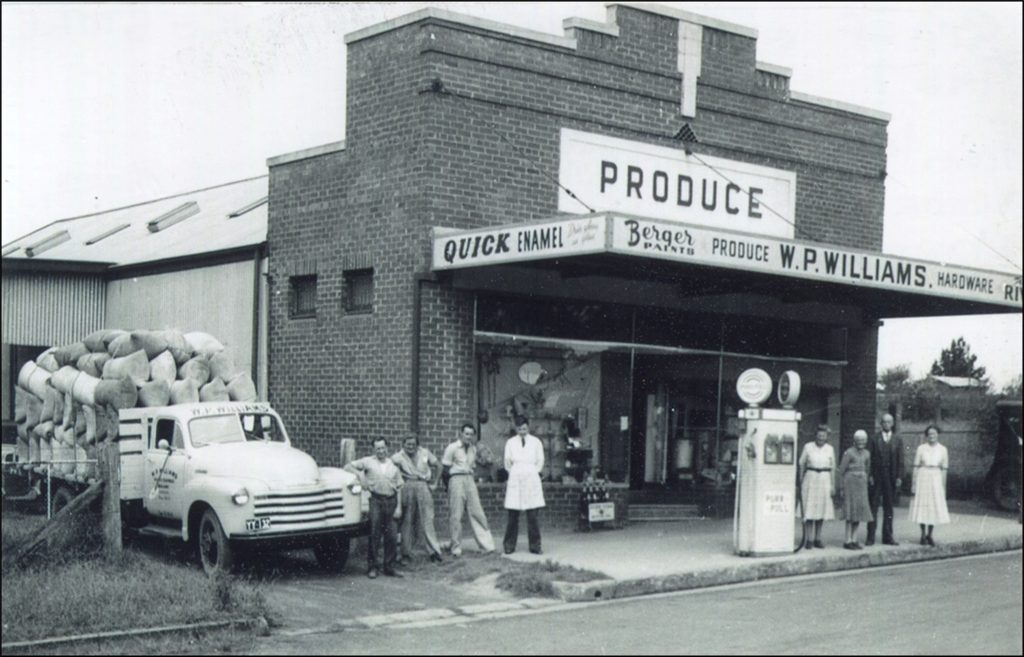 He had always loved sport, especially cricket, and felt that it was a shame that there were few suitable areas in Schofields. He had some land near Schofields Public School and Mum had bought an adjacent house in St Albans Road. If she moved the house there would be sufficient space for vehicle access to Dad's land from that street, because in 1956, Station Street was just a track in the bush. This was done.
Blacktown Council said they would not receive the land as a gift. They would have to pay for the land. I have in front of me a copy of the Memorandum of Transfer of that land dated September 13th, 1956… Lot 6 on Deposited Plan Number 23976, County of Cumberland, Parish of Gidley… from Walter Williams to The Council of the Shire of Blacktown for the purpose of public recreation… in consideration of the sum of ten shillings. This was a token amount and nowhere near the true value of the land.
In 1956 the basic (minimum) weekly wage was 246 shillings (12 pounds, 6 shillings) and children were no longer allowed to work on farms for six and a half days a week.
Schofields has changed. On Australia Day I visited the place that once was home. The house and garden, sheds, cow bails and chook shed were gone, so was the bush, replaced by dozens of houses and streets. Feeling sad I drove down Station Street to Schofields Park, so well cared for by Blacktown Council, and there at the cricket nets, was a family with a Dad bowling to his boys. I think Wally Williams would be pleased.