by Rosemary Phillis
In 2007 Mill Street was awarded the prize for the most attractive street in the Blacktown City Council Garden Competition.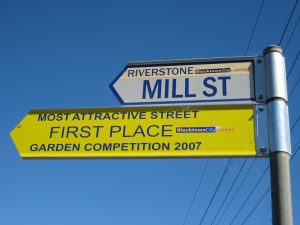 Mill Street was first set out and named in the 1877 subdivision plan DP337. It was given a descriptive name along with a number of other streets that it ran parallel to; Church, Park and Market. A member of the Blacktown Historical Society once asked me if the names had any significance to local landmarks. The answer is no, at the time there was no mill in Mill Street, no church in Church Street, no park in Park Street and no market in Market Street.
Co-incidentally however, in later years the Pearce family constructed a mill in Mill Street, the vacant land on the corner of Pitt and Park Street is regarded by some as a park and the Marketown Shopping complex was constructed on the end of Market Street.
Two links to the early days are the old house next to the Mill Street Reserve and the remnants of a well in the park itself. If you stand near the top pedestrian entrance to the park and look in about five metres, even in dry weather you will see a green 'circle', which shows the location of a former well.
These days there are no vacant lots in Mill Street and the pride that many of the home owners in the street take in their houses and gardens is reflected in their award as most attractive street in 2007.