You may have noticed that the Website has been updated today. The main changes include linking this blog into the main Website and the addition of two further resources in the links page.
These two new links are Trove and the Ryerson Index.
Trove is a fantastic resource that was recently launched by the National Library of Australia (NLA), as recently reported on ABC television. It allows you to search Australian NLA content and other Australian resources (photographs, maps, journals, sound etc) as well as make comments on the resources you find and contact other people in Australia and overseas who are researching the same area.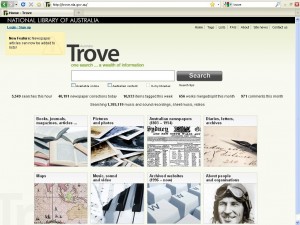 The Ryerson Index is a great resource to search death notices in Australian newspapers (especially NSW).