The 2006 Riverstone Journal has been added to the Local History Resources Collection and is now freely available in PDF format.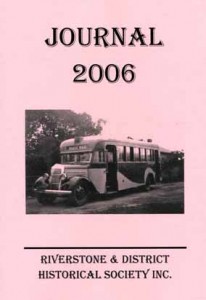 To view the journal, please navigate to the 2006 Riverstone Journal Record and click on the PDF symbol in the upper right hand section of the Webpage.
The 17 articles in this edition of the Riverstone Journal cover many  aspects of Riverstone's history including Riverstone's bus service, hotels & produce stores in Riverstone, motor racing at Schofields aerodrome,  Riverstone personalities (Nevis Worboys, Ray Brookes and John McHugh), amongst others.
We hope you enjoy the journal.